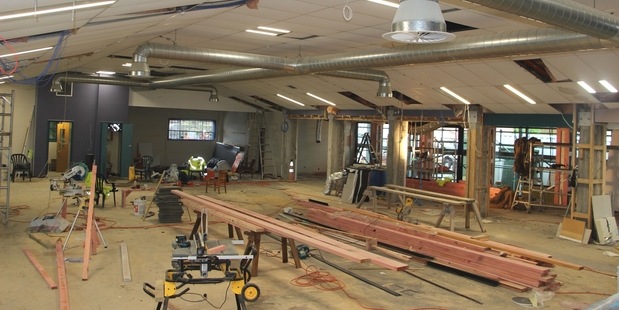 "The only thing that you absolutely have to know is the location of the library."
Albert Einstein certainly valued the importance of libraries and so does Stratford District Council, says Kate Whareaitu, director of community services.
While the location of the Stratford library has changed temporarily to allow for the work to be done, Kate says she and the library team are all very excited watching the redevelopment of the library take place.
"The temporary location in the Stratford RSA building on Miranda St has worked very well for us, but we are certainly looking forward to moving back into the library building in Prospero Place."
Director of assets, Sven Hanne, says the $1.1 million project is well under way now and is set to be completed on budget.
He says $300,000 of the cost was funded by grants, with New Zealand Lottery Grants and TSB Community Trust providing $150,000 each. The remaining amount is funded by a loan taken out by the council.
Sven says existing building issues required work such as earthquake strengthening to be completed at a cost of around $250,000 to $300,000.
"Combined with the need to replace the broken air conditioning units and ongoing issues with leaks, it made sense to look at getting the work done while also upgrading the facility for our users."
Sven says operating costs of the finished library are forecast to be significantly reduced.
"There will be a significant increase in natural light, plus we are using energy efficient LED lighting, a more economic heating and cooling system - including options for natural air circulation and the installation of double glazing in all areas affected by the upgrade. These upgrades are expected to also vastly improve the customer experience."
Kate says the upgrade is designed with the users in mind.
"The interior is more open and accessible than before, and includes a meeting room and two community lounge spaces where people can access the internet, work together on projects, or sit and read."