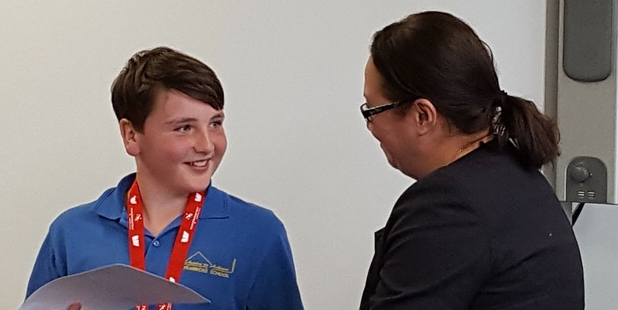 Tom Bennett was presented with the Sir Peter Blake Trust Leadership Award at an assembly at Pembroke School on Friday.
The 13-year-old pupil received his award from representatives of Westpac Bank Stratford.
The Young Leader awards, which are awarded by the Sir Peter Blake Trust in partnership with Westpac Bank, are given to students who have shown strong leadership abilities.
Principal Caroline Beissel says Tom makes a positive contribution to all aspects of school life.
"He is responsible around the school, often taking on leadership roles in a variety of situations such as sporting, cultural and in the classroom."
Caroline says Tom has a happy and cheerful nature "which brightens everyone's day".
She adds, "He is always willing to assist others, be they children or adults."