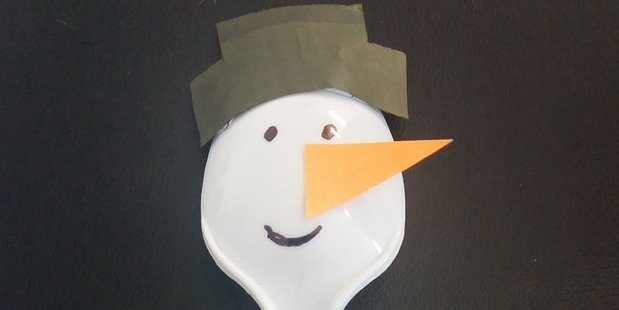 If you have youngsters at home these school holidays then why not have them build a snowman?
We made this cute little snowman, imaginatively called Olaf, with stuff we had lying around, making it a fun, low-cost activity.
You will need:
- White plastic spoon.
- Scrap of orange craft foam, felt or card (we used a sticky note!).
- Scrap of black or other coloured craft foam, felt, card or paper.
- Felt material or ribbon for a scarf if you want.
- Black beads, stickers and a marker pen in black.
- PVA glue
Instructions:
- Cut a nose shape out of the orange material or card.
- Cut a hat shape out of the black / other coloured material.
- Using small amounts of glue, attach in place on your white spoon.
- If you are using beads or stickers for the eyes, carefully glue them in place.
- Otherwise draw both the eyes and mouth on with the marker pen.
- Add a scarf if you wish.
- Give your snowman a name!
- Or is it a snowgirl? Why not build a whole family of snowpeople?
Send pictures of your completed snowperson to editor@stratfordpress.co.nz with your name and age, and we will share them on Facebook. We will then get the public to vote for their favourite snowperson and will have a prize for the winner.