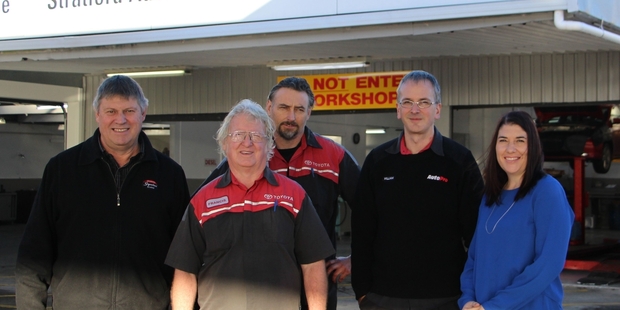 "Stratford is a fantastic place to run a business. We aren't going anywhere," says Lisa Reed, manager of Stratford Auto Professionals.
Lisa says she was shocked when customers told her a rumour was going around town saying the automotive business was closing down.
"We have a very loyal client base here in Stratford and there is no way we would turn our backs on them."
Lisa says Stratford Auto Professionals, which is owned by Tasman Toyota, opened in Stratford almost four years ago and thanks to wonderful community support the business has been booming ever since.
"We're always busy so it is hard to understand where the rumour could even have started."
Lisa says for the team at Stratford Auto Professionals, customer feedback is the most valuable return for the business.
"We like to say we aren't in the automotive business, we are in the customer business."
The business encourages its customers, regular and one-off, to fill out a customer feedback survey to find areas of growth within the business.
"It helps us better our services to ensure their experience with us is as best as it can be."
Lisa says that in a community like Stratford, negative rumours can be incredibly damaging to local businesses.
"When people leave their cars with us to get serviced they'll fill in their time getting a coffee at one of the cafes or browsing in shops, so if people think we are closed, those other businesses are losing potential customers too."
This, says Lisa, shows why it is important local businesses support each other.
"We recommend other local businesses to our customers, and would hope other businesses recommend us."
Recent downturns in a range of industries certainly means the market has changed over the past year, says Lisa.
"We see the impact it has had on some of our clients, but we pride ourselves on the fact we are happy to talk things through. Our customers are honest with us about any struggles they are facing right now, which means we can help provide them with solutions that match their needs without putting undue pressure on their budgets."
This relationship is one of the many reasons the business continues to do well in town, says Lisa.
"Our customers are willing to stand by us, so we will continue to be here for them. Stratford Auto Professionals is here to stay."