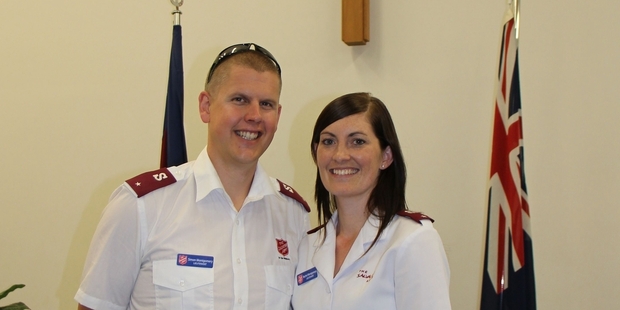 "Stratford is a great community. We have been so warmly welcomed," says Lieutenant Simon Montgomery, Corps Officer for the Central Taranaki Salvation Army.
Simon and his wife Rachel took on the role as the Corps Officers in January this year and say they love living and working within the Stratford community.
The couple have spent the past two years in Wellington at the Salvation Army training college before moving to Stratford.
Previous leader Major Maureen Ashton retired from the role after 19 years of service and Rachel says the couple have been committed to carrying on the mission and ministry that has been established.
"Maureen was very passionate about reforming society to make our community a better place to live and we too share those values."
Rachel adds that she and Simon are also passionate about caring for the people in the community.
The Salvation Army has been running a Positive Lifestyle programme, which is a 10 week course working on self awareness and personal life skills.
"The great thing about these courses is they are open to anyone in the community, not just those involved with the Salvation Army."
Simon adds the couple can also help families by referring them to counselling, budgeting and other services.
Looking forward, Rachel says the couple would love to work closely with the Salvation Army Corps in neighbouring districts to make an even bigger positive impact on the Taranaki region as a whole.