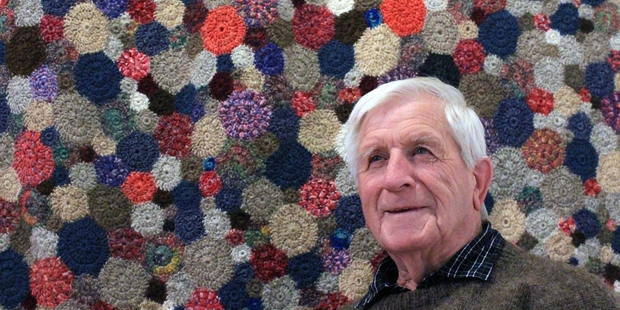 When Bill Hunt was knee-high to a grasshopper his grandmother taught him to knit and crochet because 'you might want to do it when you're old!'
This was the beginning of a life-long passion for a craft that won him the Taranaki Regional Council Recycle Award at the Fibreworks exhibition that opened at Percy Thomson Gallery earlier this week.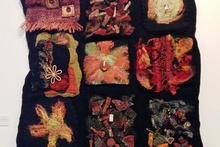 The biennial exhibition showcases the finest endeavours of members of Creative Fibre Taranaki.
Bill's crocheted quilt, Memories was a labour of love. It was manufactured from a number of cardigans and vests, spun, crafted and worn by his late wife, Joan, who passed away in February 2015.
The couple were a few months short of their 58th wedding anniversary and have a family of four.
The knitted garments were unravelled, rolled into balls, and transformed into the award-winning 'circle' design quilt.
The different colours were placed in buckets to make it easier to co-ordinate, and the organic free-flow design began to take shape. Interspersed with Joan's cardigans and vests are yarns from previously loved natural wool garments.
Born and bred in Waverley, Bill has memories of his mother knitting for soldiers in World War II.
"My mother was knitting heels for socks for use in boots. I would ply the wool for her."
Bill was a second generation member of the Hunt family to farm on land next to the Waverley Race Course.
He was a registered breeder of Romney sheep and Angus cattle. Rams were sent all over the North Island.
Joan Boswell was born in New Plymouth and her father owned a drapery in Waverley, and the rest, as they say is history.
Joan had her own flock of about a dozen black ewes. One fleece supplied enough wool for a couple of jerseys.
The farming couple retired to Waverley Beach in the early 90s.
Bill does most of his knitting and crochet in front of the tele of an evening these days.
Once a month he travels to Hawera to meet up with a local fibre group there. He is the only male member. There, his crochet skills are in great demand. Members of the group knitted brightly coloured diamonds and Bill crocheted them into a blanket. It sold on exhibition opening day and is travelling to a new home in Texas.
The spritely 84-year-old still knits for family members.
"But they have to supply the wool," he grins.