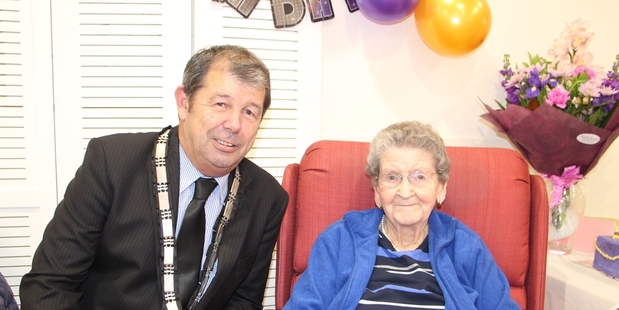 It's a happy 100 years old to Martha Hosking, who says the secret to living a long life is in "hard work".
"She has always been busy, as office manager of her and Dad's company as well as volunteering in the community," says her daughter Alison Sampson, who along with her other family members, joined her mother for a birthday afternoon tea at Bupa Elizabeth R Care home in Stratford where Martha lives.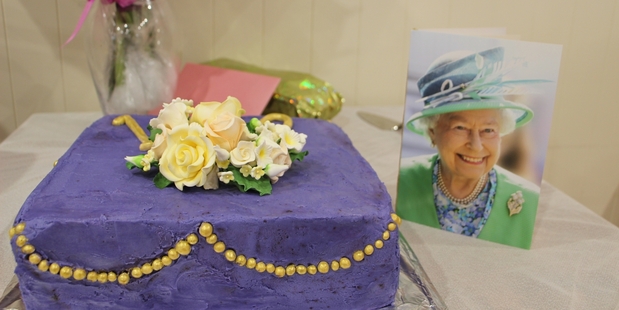 Staff at the care home, Martha's friends and family joined with other well wishers wishing her an early happy 100th birthday on the Wednesday before her birthday on June 25.
Alison says Martha has lived her whole life in the area.
"Her parents were Swiss and settled in New Zealand. She was born in Hawera then the family moved to Mokoia then moved north to Stanley Road."
Martha attended Wharehuia school until she was 14.
"There was no transport to the high school, so she just stopped her education at that point, and then worked on the farm until she and Peter married when she was 20.'
Alison says as well as always working hard, her mother never smoked or drank, and was always involved in the community.
"She was a member of the Midhirst Rural Women group for 80 years," she says.
And that is just one of many groups Martha has supported through the years.
From belonging to the Methodist Guild, volunteering for hospital visiting, managing bookings for the Midhirst Hall as well as the Methodist Church Hall, volunteering with meals on wheels to helping out at the church shop Martha has filled her life with more than many could fit into three lifetimes.
As well as being the office manager of the company Hosking Carriers that she and her husband Peter started back in 1948, Martha also looked after Alison and her other daughter Helen (Uhlenberg) as well as giving her time generously to many groups.
Mayor Neil Volzke spoke at the afternoon tea, congratulating Martha on the many achievements in her life.
"The Hosking family is very well known in the district, and you understand why when you hear of how many groups and organisations Martha has been involved with through the years."
Martha says she has enjoyed her life "so far" and says everyone should try and do something for their community whenever they can.