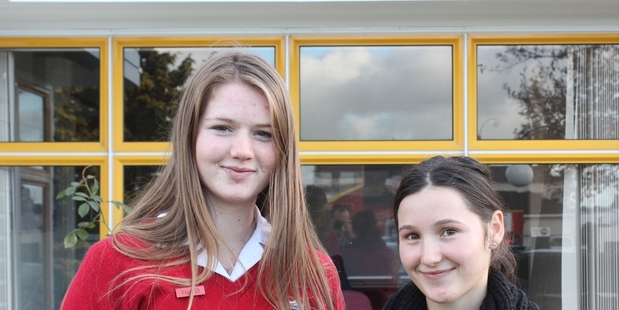 Year 13 geography students at Stratford High School counted nearly 14,500 trucks driving through Stratford's CBD in just two days.
"And we only counted them over a total of 13 hours in that time," Ashley Kowalewski told councillors at a Stratford District Council meeting earlier this month.
Ashley, along with classmate Christine McIvor, presented their group's findings to council, receiving praise from councillors present for their efforts.
Councillor Kelvin Squire said their presentation was informative and raised some valid points.
The students had asked local businesses in the CBD and members of the public, as well as some trucking firms, whether they thought a heavy traffic bypass would be a good idea.
In their presentation, the girls noted they had only sampled a small selection of people, but felt the information was still useful to a discussion on the potential of a bypass in the town.
Of the businesses approached, the students reported a total of 55 per cent were in support of a potential bypass, with 54 per cent of the general public also being in support. When it came to trucking firms, the support was stronger, with 67 per cent responding in favour of a bypass.
While businesses and members of the public both identified noise and danger as being the main issues, the trucking firms were more specific, citing pedestrians not use the crossing, cars performing U-turns as well as reversing out of the angle parks as being some of the issues they saw as being problematic. Another issue identified by the trucking firms was the restrictive passage in the middle of town for wider or larger loads.
The two students answered questions from councillors after their presentation in the public forum and even managed to claim the last word.
When asked by councillor Graeme Kelly if they were aware a potential bypass would take heavy traffic past the high school, "so would that concern you", Christine quickly responded with "no, we are in our last year, we will have left by then".