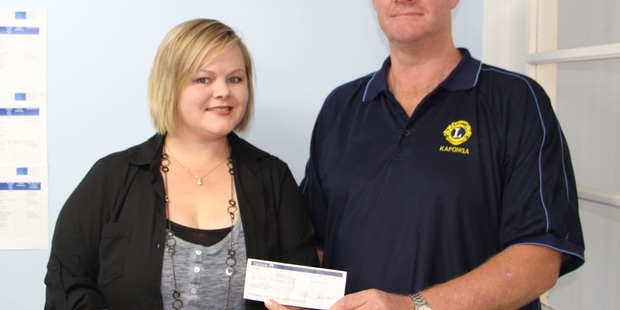 Paul Erkes, president of the Kaponga Lions, is issuing a challenge to other Lions Clubs in the area.
"Consider joining with us in supporting this worthy cause."
The challenge, which Paul says is for any other philanthropic groups in Taranaki or further afield was given when Paul met with Paula Nickel, to hand over a cheque for $1000 for the family of Campbell Robertson, a young Midhirst boy currently undergoing chemotherapy at Starship hospital.
Paula, who is Campbell's aunt, says the whole family are completely overwhelmed and touched by the kindness and generosity of the community around them.
"On behalf of the family, I just want to thank everyone who has helped. It is really humbling. We are lucky we have such a great community here."
Paul says the money comes from fundraising activities the club runs throughout the year, from selling firewood, to catering, to slink calves.
"It is a pleasure to be able to help a local family out this way. Thank you to everyone who supports our club's fundraising activities."
While the challenge is lighthearted, Paul says it has a serious side.
"It would be great to see more people and groups coming forward to help Campbell and his family."