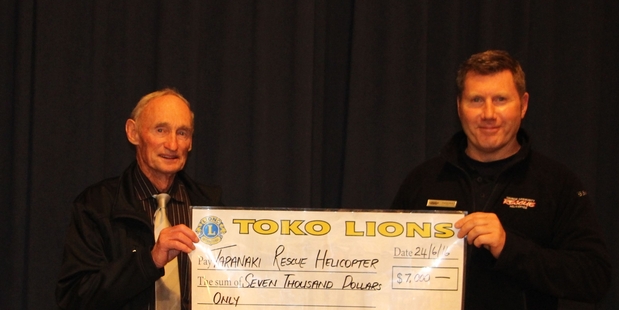 Neville Cleland had the honour of presenting a cheque for $7000 to the Taranaki Rescue Helicopter Trust last Friday.
Receiving the donation on behalf of the trust was Stephen Beck, one of the trust's pilots. He thanked the Toko Lions for their support.

Last year we took 200 people, many from rural environments, to tertiary hospitals.
Stephen says the trust has come a long way since it started out about 25 years ago, when it operated out of a shipping container with a small single engine helicopter.
They now have a twin engine helicopter. The rarefied air up towards the mountain means an engine has to work harder and "two engines are better than one!"
Outgoing president of the Toko Lions, Jeff Morgan, says the money was raised through the club's annual motorbike ride, the Chateau to Plateau, which has supported the helicopter trust for nearly 10 years.

The work they do is fantastic, and we are proud to be able to support them.
New president, Nicky Macdonald-Wells, says over the past nine years, the group has donated about $85,000 to the Taranaki Rescue Helicopter Trust.
"And with next year being the 10th anniversary of the ride, we hope to make the event even bigger and better and raise even more funds for this very worthy cause."
The Chateau to Plateau Charity Motorcycle Ride is on January 29, 2017. More details on their website.