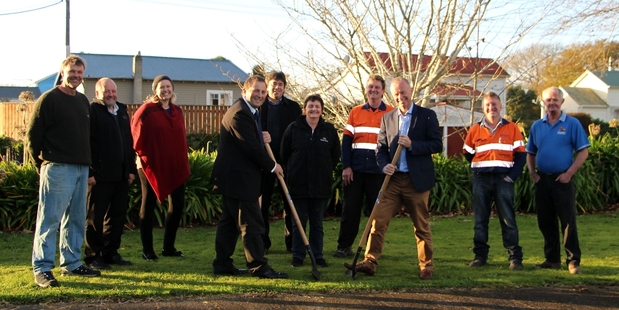 The first soil was turned at Eltham School on Friday afternoon as part of a groundbreaking ceremony for the Save The Eltham School Arches project.
Members of the Save The Eltham School Arches Committee (STESA), sponsors of the project, project contractor Michael Cowley of Ngaere Earthmovers and South Taranaki mayor Ross Dunlop were present at the ceremony.
STESA chairperson Dave Stewart says the committee is thrilled that work is finally underway for the restoration project.
The committee has been working hard for almost a year now to get this project underway and it is fantastic to see the plan coming to life.
It was announced earlier in the year that Ngaere Earthmovers would be the contractor for the project.
"It is great being involved in such a community-focused project. We were very pleased to have been chosen to carry out the restoration," says Michael.
The majority of the restoration work will be completed during the July school holidays with an intended completion date before the end of September.
Also present on Friday afternoon were Keith Stanners, Robert England and Jason Baike, the three men who David says first conceptualised the project.
"When the Ministry of Education deemed Eltham School's arches an earthquake risk, it was only through the quick thinking of these men that saw the arches saved from demolition."
David says the project has only been made possible with the on-going support of various local businesses and grants from organisations such as the Taranaki Electricity Trust (TET).
"The TET really kick started the project with a grant of $40,000 which was amazing."
While the project officially underway, David says the committee is still looking for funding and sponsorship. The option of buying a brick within the archway is still available, where individuals, groups and families can buy a brick for $100 and have up to three lines of text etched into it.
For more information about how you can buy a brick, or to keep updated with the progress of the project, search Save The Arches on Facebook.