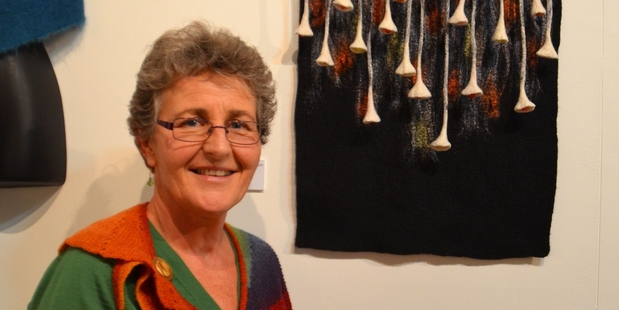 The official opening of the Creative Fibre Taranaki Exhibition Fibreworks was held on Sunday, and the Percy Thomson Gallery was packed with exhibitors, art enthusiasts and many of the award sponsors.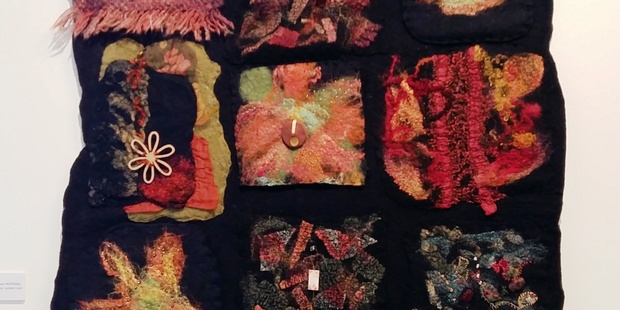 Gallery director Rhonda Bunyan says some pieces sold quickly, with two items to go all the way to Texas at the exhibition's end.
A gentleman was taking pictures and sending them to his partner back in the US choosing which piece they wanted.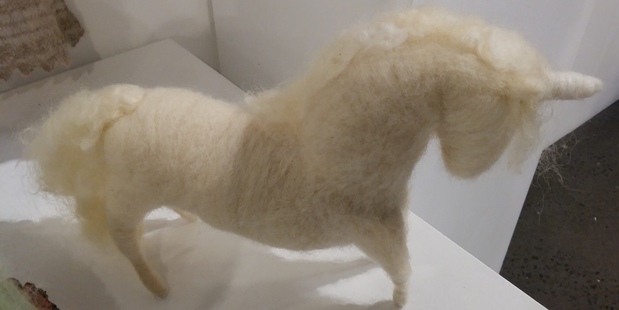 He finally settled on a hand-knitted throw as well as a whimsical needle felted unicorn. Rhonda said he raved about the quality of the artwork on display, which was testament to the quality of work in the exhibition.
Exhibition convenor Maree Liddington, says the gallery is a lovely place to exhibit.
"Taranaki is very privileged to have the space available."
One of the award winners on the day was Beth Pottinger-Hockings, who received the Artistic Design Award for her thought provoking piece Out of the Darkness ... Into the Light.
Beth says she was inspired by her work as a counsellor.
"You see people coming out of the darkness of their life into the light, and I wanted to bring that idea to life in this piece. I made the individual lights different lengths to represent the fact that not everyone's journey is the same, everyone's process takes a different amount of time".
Beth says the piece evolved in her mind as she thought about it, before making it practically in one go.
"Although each light bulb had to be individually made and then the whole piece brought together."
Beth says she was delighted to have won, especially considering the standard of work on display was all so good.
For more photos of the work in the exhibition, check out our photo gallery online.
Fibreworks is on now at the Percy Thomson Gallery, Stratford until July 17.
Next Saturday, a market will take place at the Stratford War Memorial Hall with a range of stalls selling products for felting, spinning, knitting, weaving and much more.
Winners:
Artistic Design Award: Beth Pottinger-Hockings - Out of the Darkness..Into the Light (sponsored by CF Taranaki Area) Merit: Lorna Davies - Nature's Textures.
Colour Award: Bernice Mitchell - Love Me in Red, Too - nuno felt waistcoat (sponsored by Teri Dyes).
Taranaki Award sponsored by the George Mason Trust: Maree Liddington - Kereru at the Lake - tapestry weaving Merit: Janette Theobald - Ebb Tide at Back Beach (sponsored by GM Trust).
Silk Award: Debbie Dawson - Sparkles in the Sand (sponsored by Sentosa) Merit: Pavi Old - Circus - handspun yarn (sponsored by Sentosa).
Alpaca Award: Olga Forsyth - Autumn - handspun yarn (sponsored by AlpacasRstyle).
Accessory Award: Susan Imhasly - Waterplant - scarf/necklace (sponsored by The Creatory & Twists to Treasure). Recycled Award: Bill Hunt - Memories - throw (sponsored by Taranaki Regional Council). Merit: Beth Pottinger Hockings - Memories - woven basket & bowl (sponsored by TRC).
First Time Entrant Award: Susan Imhasly - Butterfly - felted cardigan/jacket (sponsored by Taranaki Festival Education Fund)
Black and Coloured Award: Susan Imhasly - Simplicity cushion (sponsored by HT Joinery and Duncraig B & C Sheep).
Mohair Award: Maureen McPhillips - Forest Sunset handwoven throw (sponsored by Team Stevens Re/Max New Plymouth).
New Weaver Award: Gail Thompson - Teal Ruana (sponsored by M & M Weavers).
Excellence in Knitting Award: Florence Potts - Regency Style jacket (sponsored by DEA Yarns).
Excellence in Spinning Award: Deb Kirk - spun silk yarn (sponsored by Fibre2Go).
Excellence in Weaving Award: Gayleen Schrider - Trio of Blue Cushions (sponsored by Village Books & Crafts) Excellence in Felting Award: Beth Pottinger-Hocking - Mandala wall hanging (sponsored by HeARTfelt Bernice)