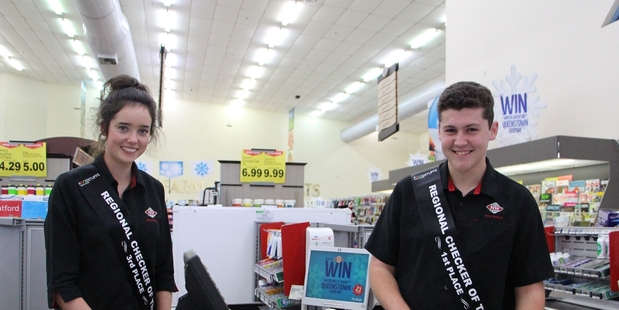 "The win shows just what a great team we have here."
Rebecca Harris who, with her husband Dan, is the owner operator of Stratford New World, says having staff win first, third and seventh place in the Foodstuffs Taranaki region Checker of the Year was fantastic.
"We have only been here for six weeks, so having staff achieve so highly gives us a real boost," says Dan, who adds he and Rebecca are really enjoying settling into Stratford.
Dan says they put on a bus to take a "large group" of supporters along to the competition. They were "all jacked up on lollies and water" and the team spirit was a winner on the day.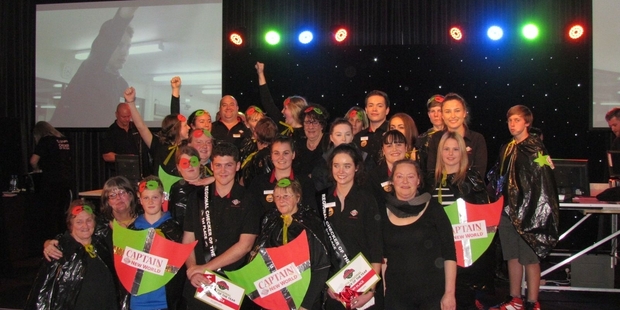 "We won the prize for the best supporting team, as well as the best New World team overall."
Rebecca says all staff who competed in the competition "did really well".
Fiona Riddick, checkout manager, agrees. "I've done it before so I know first hand how hard it is just even being on the stage in front of everyone."
Fiona says the seven staff members who competed received "great training" from checkout supervisor Kerryn Coull.
"Full credit must go to her for all the work she put in during the lead up to the competition."
The competition, held at the Devon Hotel on Tuesday, June 14, saw over 40 Foodstuffs checkout operators from around the region go head to head.
They were judged by a panel of eight senior Foodstuffs staff on their speed, presentation, customer service and accuracy as they scanned 30 items as fast as possible, while also staying friendly and composed.
"I practised on customers all the time," says Caleb Gibbons, the 16-year-old Stratford High School student who took home first place on the night.
"It was my first year of entering the competition. I went in hoping to do well but never expected to win."
His colleague Anna Kissick, 22, had also entered for the first time. "Having a good smile and enjoying chatting to customers is certainly an important part of the job, especially when it comes to a competition like this."
Caleb will now be mystery shopped again, along with the winners from the other regional competitions, to determine who the North Island Checker of the Year will be. "I'm not really thinking about it, I am treating every customer as I always do - as the most important person, because that's who they are. It would be great to win, but it is great to have even got this far."