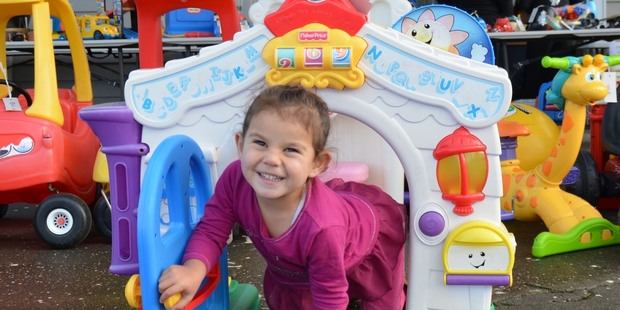 If the smile on Elliotte Chadwick's face was anything to go by, the toys at the Eltham Toy Library are great fun.
Three-year-old Elliotte had a ball on Sunday, playing with some of the old toys up for sale at a garage sale held to raise funds for the Eltham Toy Library.
Elliotte's dad David says the toy library is a great way for families to give their children access to a wide range of toys.
"Not everyone can afford big items like ride-ons or toy shops, and children also can get bored with their toys quickly. A toy library means you can swap fun around and always have something new and interesting at home." Elliotte's mum Kimberley is on the toy library committee, and the whole family was at the garage sale on Sunday, helping to raise funds.
"We want to make space as we were getting overcrowded with toys, plus raise some money for new ones."
Joyce Lawrence was manning the sausage sizzle. She is a member of the Maata Women's Institute, and says they were looking for a local charity to support.
"Our national directive was to 'adopt a..' so we were looking for something to adopt. Most of us are mothers and grandmothers and know the importance of play for little ones."
Joyce says they are working with the toy library committee.
"We're helping where we can. They are a young and enthusiastic committee and we are happy to be involved with such a great group of people".
Eltham Lions have also been busy helping with new shelving.
Eltham Toy Library is next to the Plunket Rooms, High Street, Eltham. Open every 1st and 3rd Wednesday of the month, 10.45am - 12.45pm. $20 a term ($60 a year).
Contact Alecia Lawrence, 06 764 8865.