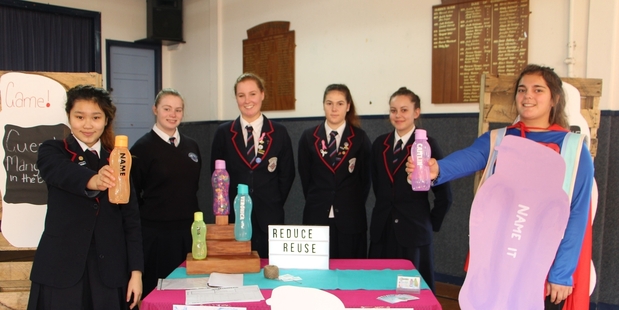 "At school we often have the same water bottles and it is always confusing."
St Mary's Diocesan student Molly Hutchins (17) says the constant mixing up of bottles inspired her and the rest of her Year 12 Business Studies class when they had to come up with a product or service for the Lion Foundation Young Enterprise Scheme.
When she and her classmates started talking about water bottles, they identified several issues or problems with them.
"Lots of people buy water bottles as a disposable item which isn't good, and if people pick up and drink from the wrong bottle then it is unhygienic of course."
The students approached Tupperware and organised a partnership, enabling them to buy Tupperware bottles for which they have designed personalised name labels. They are selling the bottles in two sizes, 1 litre and 500mls, and in four colours. They have called their company Nameit.
"We like working with Tupperware because it a brand which people know and trust. We like the fact the bottles are BPA-free and have a lifetime guarantee.
All these factors fitted with our desire to come up with a product or service which was environmentally friendly."
Katelyn Bishop (16) says the labels were tested thoroughly before they launched their product.
"We took them to Fonterra and asked them to put two bottles with name labels on them through their commercial dishwasher at a high temperature 30 times. Both bottles came out perfectly. The labels had stayed on and nothing was faded."
The girls, who have made it through to the Dragon's Den regional finals next week where they will pitch their business idea to a panel of judges, launched their product at their school last week.
"We got some orders on the day, and we are taking orders from outside the school as well."
Katelyn says they need to sell around 90 bottles to reach their break-even point.
"We looked into health issues that were linked with BPA and found out one link was with heart disease, so we decided to make a donation to the Heart Foundation," says Molly. They will donate 10 per cent of their final profit to the charity.
To find out more or to order a bottle, contact the students via email: nameitforyou@gmail.com