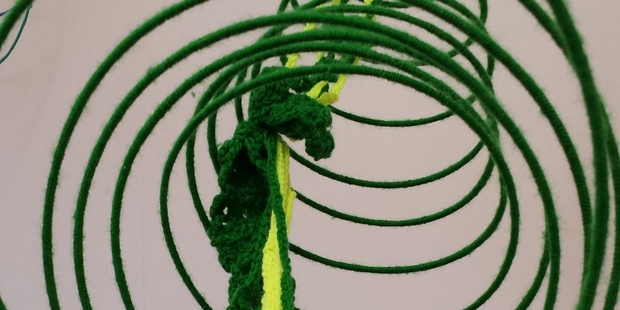 Taranaki Creative Fibre members have been beavering away to produce some fine work to exhibit in their biennial exhibition opening at Percy Thomson Gallery on Saturday, June 25.
The talented and innovative group covers a wide array of disciplines; weaving, knitting, spinning, felting, dyeing. Many of the artists hold national awards and are experts in manipulating texture and form.
Each piece will be judged and prizes awarded across several categories which range from design expertise to the use of colour and specific fibres such as silk, alpaca, flax, wool, linen and cotton, including a recycled category.
There is also an award for a first-time entrant to encourage new members and another award for the most creative use of New Zealand design or materials, with particular reference to Taranaki.
Guest artist is Rosalind Thomsen from Whanganui.
Rosalind has long been fascinated by fibre. She says it is part of her heritage.
"My mother and one of my sisters taught me to knit, crochet and embroider. The possibilities inherent within these crafts have exerted an enduring lure on my imagination. I have been experimenting with textures: the texture of different types of threads, the textures that can be created with different stitches, and how different colours and thicknesses of thread in various combinations can affect the look of a given piece. The shape, form and movement of each piece give vitality and movement to the works."
Rosalind's emphasis currently is on three dimensional work. Instead of mark-making on paper or canvas, she has been drawing in space, painting with threads.
Also featured is the Australia/NZ Travelling Tapestry Exhibition. This is a yearly challenge for tapestry weavers in both countries. This year the chosen title is 'Flight'.
An opening celebration, including exhibition awards, preview and afternoon tea will be held on Sunday, June 26 at 2pm.
The exhibition runs from June 25 to July 17.