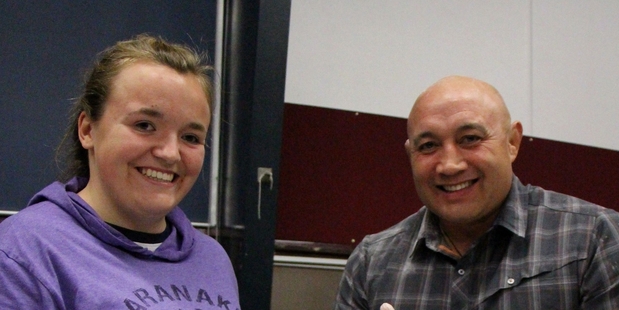 Flour, cheese and fighting words were thrown on Friday night at the annual Eltham Four Square Cheese Scone night.
Eltham Business and Professional Association chairperson Michael Jago says, as always, the event was a great success.
"This was the first time we have held the event at Eltham Primary School and it was great to see a good number of competing teams and a huge number of supporters in the crowd."
As well as the famous cook-off, home bakers had a chance to join in the fun by entering their scones in the home baking section. The judges, members of the Mangatoki Women's Institute, took their role very seriously say Michael.
"Deliberations took some time".
In the junior section Oceania Brown Martin was placed first followed by Keegan Lozell and Rebekah Hodge, and in the senior section Steffy Mackay took out the number one spot followed by Lee Harley and Denise Mair,
Special guest speaker for the night was former All Black Norm Hewitt. Norm says he was honoured to be guest speaker for the night.
"Eltham is a wonderful community and it is great to be a part of such a special event."
As well as having a chance to get his hands dirty in the Master Scone Off competition, Norm spoke to the crowd on Friday night about the importance of having goals.
"I decided at seven years old that I was going to be an All Black and I stuck to that goal right through."
Having visited schools on Friday afternoon he was impressed by the community and would love to attend again.