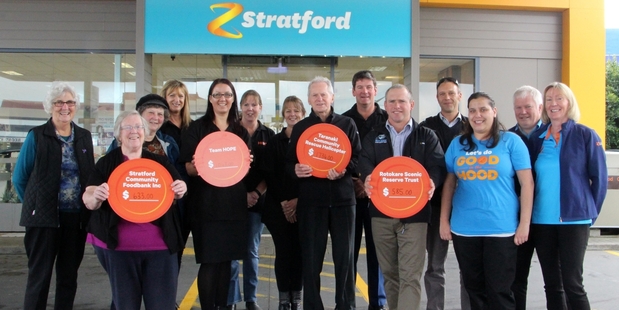 There was a good feeling in the hood on Monday morning as four local charity groups collected their share of $4000 from Z Petrol Station Stratford.
Good in the Hood is a national initiative where each Z station throughout New Zealand supports four local groups, who each receive a share of $4000 based on who Z customers voted for.
In Stratford the groups were Team HOPE, Stratford Community Foodbank, Rotokare Scenic Reserve and Taranaki Rescue Helicopter.
"I love being a part of the Good in the Hood promotion. It is so wonderful to meet the people behind these community groups and get to hear about the impact they are making in our community," says Jacinta Hurley, who along with her husband John is the owner operator of the service station.
Jacinta says the team at Z Stratford look over the applications at the beginning of the Good in the Hood promotion to choose which groups will be supported.
It is important that the Stratford staff make the decision as they are the ones who see the impact of these community groups.
While the promotion is open to groups throughout the region, the Stratford station aims to support groups that are based in Central Taranaki.
As well as providing the groups with a donation, Jacinta says Good in the Hood gives the groups some much-needed publicity.
"During the promotion groups spend time on the forecourt chatting with customers about what they aim to achieve in our community."
After all the orange counters were counted, the distribution of the money was:
- Taranaki Rescue Helicopter: $1734
- Team HOPE: $1048
- Stratford Community Foodbank: $633
- Rotokare Scenic Reserve: $585