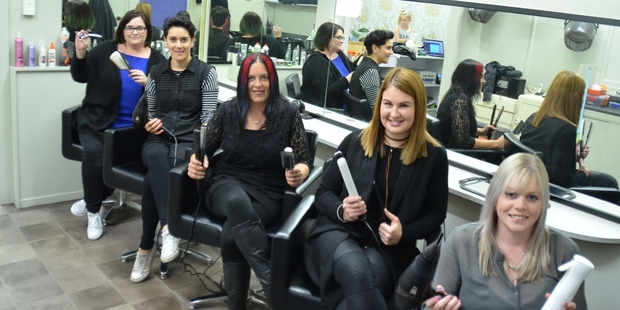 Armed with scissors and combs, some local hairdressers are doing their bit to help a local family in a time of need.
Jaimie Bertie, who owns Suede - Hair by Design on Broadway, says she saw a post on Midhirst School's Facebook page about a pupil, Campbell Robertson, and his family and immediately wanted to help.
Jaimie says Campbell (7) has been diagnosed with Burkitts Lymphoma and is at Starship hospital undergoing chemotherapy.
" I wanted to do something to help. I held a hairathon a few years ago to help raise money for a young girl with Cystic Fibrosis, so knew it was a good fundraiser. I put the idea on my Facebook page and asked others to join in."
The girl who Jaimie fundraised for is the daughter of Jessica Patterson and Jessica has come on board with this latest hairathon, offering her services on the day.
Two of the hairdressers joining forces with Jaimie, Alison Mattock and Shanele Kowalewski, know Campbell or his family and Alison says it was an obvious choice to offer their services.
"My son is in Campbell's class. He's pleased I am helping raise some money for his friend's family."
Shanele says the money raised will help the family greatly.
"Campbell became ill quite suddenly. Just a few weeks ago he was playing with his friends in class and now he is fighting cancer."
Lara Jamieson has already been using her scissors to help, offering $10 child cuts from her home salon in Midhirst over the past couple of weeks with all proceeds going to the Robertsons. She is also looking forward to donating her time at the hairathon, saying she hopes they are all "run off their feet" on the day to raise as much money as possible.
Lena, who works at Suede says when Jaimie mentioned the hairathon, "I loved the idea and was happy to give my time to it".
Jessica Bound-Walsh was also quick to sign up.
"I have been looking for ways in which I can help others by sharing my skills or giving my time to a good cause. This fits perfectly."
The hairathon is at Suede on Sunday, June 19. From 9am until 5pm the hairdressers will be combing and cutting their way through as many $15 hair cuts as they can. Jaimie says bookings are being taken now, however they may have space on the day for walk-ins "as long as you don't mind a wait and don't want a specific hairdresser". She says to guarantee a spot, ring her at Suede to book or to message the salon's Facebook page. She is also happy to hear from more hairdressers willing and able to donate their time and skills on the day.
"Keep an eye on our Facebook page as we will be updating the list of hairdressers involved as we go."
The team have also got some great raffles to draw on the day.
"Heaps of businesses have already donated prizes and more are coming in every day," says Jaimie, who encourages anyone who has something they could donate to let her know.
"We will be selling tickets throughout the day and drawing the winners at the end of the day. The more money we raise the better."
Midhirst School has a donation box for people to drop in any contributions. The school is also holding a mufti day and sausage sizzle on Friday, June 17.