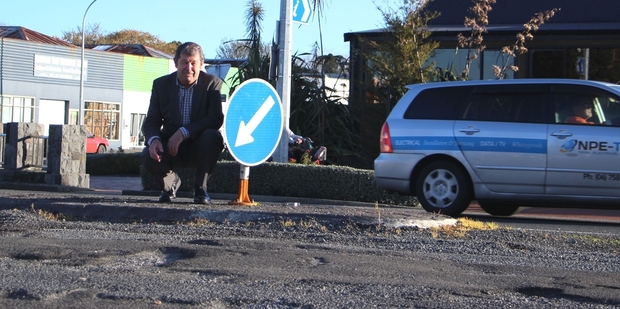 "When the potholes are bad, we certainly sell more tyres!"
Chris Merson, managing director of Central Tyre and Automotive Ltd, says potholes can cause significant damage to cars.
"We've got a car in the shop currently which has a bent rim and ripped tyre after hitting a pothole. They can knock wheel alignments too. They really are a nuisance on the roads."
Stratford mayor Neil Volzke says the Council is well aware of the damage potholes on roads can cause.
Which is why we would really like to see some work done to fix the ongoing problem of potholes on State Highway 3 through Stratford, especially around the two roundabouts in the town.
Neil says he has raised the issue with NZ Transport Agency (NZTA) in the past, and continues to do so, but has yet to see the problem fixed.
"They having been giving the potholes a temporary fix, basically patching them up, but not actually repairing the road properly.
Every time it rains the potholes reappear and the problem increases."
Neil says the state of the road, especially around the southern roundabout outside Colonel Malone's Restaurant and Bar, is the subject of regular complaints to Council.
"The road is the responsibility of NZTA, but we are the ones copping the criticism. The road has a lot of out of town traffic and it really isn't a good look for the road to be in such a poor state of repair."
Owen Brighurst, general manager at Colonel Malone's, says customers often comment on the poor state of the highway.
"Just looking out of the window on any day, we see cars bump up and down as they go over the potholes. Motorcyclists in particular find it terrible to ride along."
Neil says he has observed cars swerving to avoid the potholes, moving themselves into the turning lane when they are going straight ahead.
"This piece of highway is substandard and it is causing damage to vehicles. Motorcyclists must hate it. Getting it fixed needs to be a priority."
Ross I'Anson, acting highways manager for NZTA, says NZTA is aware with the ongoing issues.
"We have been investigating a suitable solution that will withstand the impact from the volume of heavy vehicles that travel through the town, and will meet the needs of the Stratford community."
Ross says the work will be happening soon.
"We expect this work to take place before the end of June, depending on the weather."
Neil says the work can't come soon enough.
"Getting the work done before we get much more rain would be great. The highway is a main thoroughfare through our town and we want visitors and tourists to be impressed by Stratford and to feel tempted to stop, shop and explore our district. We don't want them to write home about poor roads in bad repair or to judge our town by the state of the highway."