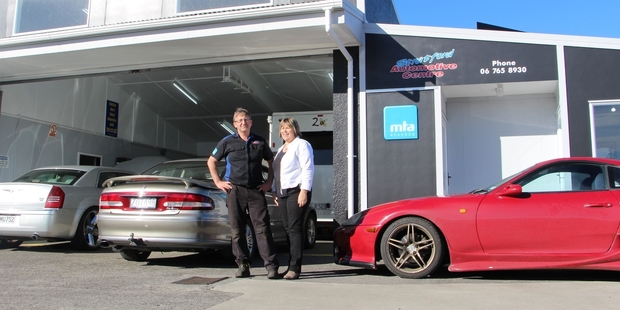 What makes a car go, and more importantly what makes a car not go?
Solving puzzles like has always been a passion for Nigel Old, owner operator of Stratford Automotive Centre, which is one of the reasons he opened his business 20 years ago.
Nigel and his wife Annette, celebrating the 20th birthday of their business, agree that while many things have changed in the automotive industry over the years, their love for the business and the Stratford community hasn't.
Annette says she and Nigel both grew up in Stratford and say it was an obvious choice to open their business here.
"Stratford is such a warm and supportive community. It is a great place to own a business."
Nigel says he worked as an automotive technician for years before branching out on his own.
"I was ready to take on a new challenge."
The couple were confident of Nigel's abilities, as were his clients.
"Nigel has always had a loyal client base that followed and supported him over the years."
In an ever-changing industry Nigel says he has faced his fair share of challenges.
"Vehicles nowadays are emissions driven and almost completely computer operated so we've had to adapt to the technology changes and upgrade the tools we use."
He says as information is more readily available on the internet, they face challenges with car owners 'self diagnosing' mechanical problems.
"A lot of people don't actually know what they are driving these days. We like to ensure our clients leave with a full understanding of what the problem is and how to avoid future issues."
While Nigel says there have been many late nights in the workshop over the past two decades, he says he wouldn't change his job for anything.
"There is a sense of satisfaction that comes with getting to the bottom of an issue with a client's vehicle. It is a great feeling to be able to hand them back the keys along with a solution."
Asked what advice the couple would most readily share with clients, Nigel and Annette agree regular servicing is essential.
"We have clients who come in to get their vehicles regularly serviced and they have never run into any serious mechanical issues. It is the most important thing you can do for the safety of you and your family," says Annette.
With 20 years under their belt the couple say they have no intention of slowing down anytime soon.