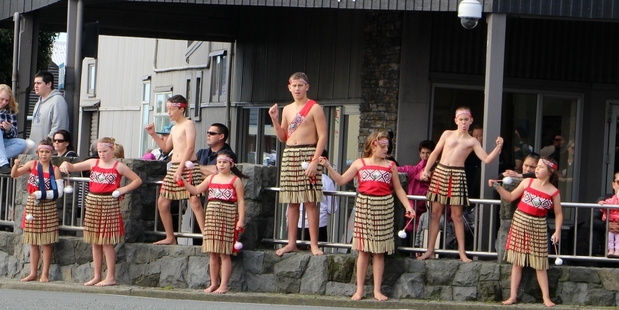 The song Poi-E blasted from the speakers on Broadway and Stratford residents put on their dancing shoes on Sunday afternoon for filming of Stepup Taranaki's music video.
The newly established charitable organisation Stepup Taranaki took over Broadway to film the Stratford scene of their music video, which is being created as a fundraising project for the Taranaki Young Persons' Trust and the South Taranaki Hospice.
Broadway Stratford was one of 21 Taranaki locations chosen to feature in the music video.
The whole Stratford community was invited to join in the fun, and hundreds of dancers, young and old, took up the offer to star in the video on Sunday afternoon.
Board member Debbie Gadsby says Sunday's shoot was a huge success.
"We shot a fantastic amount of footage for the video. We managed to raise more than $600 in our collection buckets and the event even got coverage on television so we are thrilled."
As well as dancers from throughout the community, Sunday's performance included 200 motorbikes ridden between Stratford's two roundabouts, all of which was filmed with a drone.
Debbie says the Stepup Taranaki board is grateful to everyone who came out to join in the fun on Sunday as well as to the local sponsors.
"Without the support of the local businesses we couldn't have brought this project to life."
To find out where Stepup Taranaki is filming next or follow the project search Stepup Taranaki on Facebook.