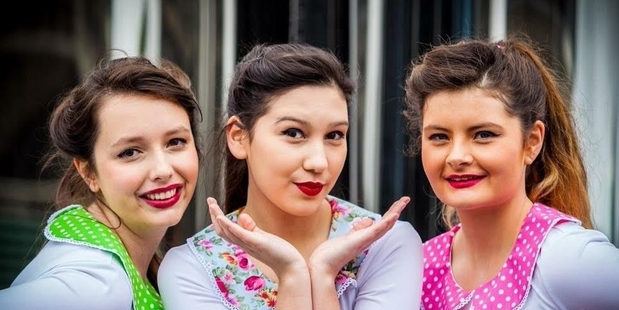 It's Showtime will be a concert to remember, bringing together styles of music from the 1940s and 50s in the TET Kings theatre on June 11 and 12.
And what a great era that was - with standards that have endured and entertained for decades.
The 35-strong Stratford Singers will perform from the famous shows, Oklahoma, South Pacific and My Fair Lady. Music director Peter Copeland has chosen a variety of songs, with foot-tappers like I'm getting married in the morning and the poignant lyrics of You'll Never Walk Alone.
The big band sound produced by The Great Taranaki Steam Band is a real crowd pleaser, and Christopher Luke will lead all 45 of them in swing hits such as St Louis Blues, In the Mood and Colonel Bogey.
A favourite is sure to be Salute to the Duke - Ellington.
The close harmonies and classy choreography of Words With the Birds have taken Taranaki by storm over the past year and the sassy young trio will be on stage to wow the audiences with standards from the Andrews Sisters, the Chordettes and the McGuire Sisters.
Well-known radio personality Bryan Vickery will be Master of Ceremonies for the evening.