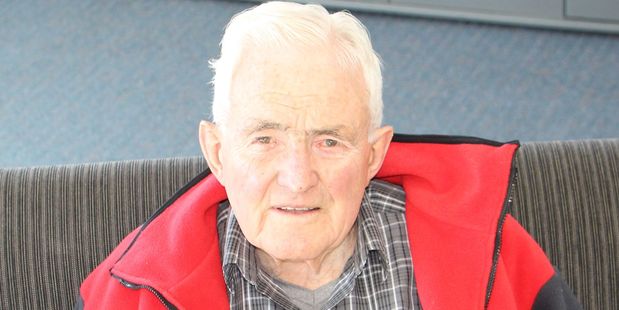 Roy Lithgow hasn't kept many secrets from his wife Merle, in the six decades the couple have been married, but he has been keeping a big one from her for the past few weeks.
Roy has been awarded a Queen's Service Medal (QSM) for services to rugby, philanthropy and the community, in the Queen's 90th Birthday Honours List released today.
Roy didn't have a grand plan for telling Merle about the honour, "I'll just let her find out on the day," he told the Stratford Press last week. He added he hadn't actually "told her a lie," but rather had just omitted to mention the fact to her. Even giving an interview to the Stratford Press was cloaked in secrecy, "I told her you wanted to talk about someone I know, and that's true, I know myself".
Keeping the secret from Merle wasn't for lack of faith in her ability to keep a secret, "but the letter said not to tell anyone so I didn't". Besides, he adds, "if you really want to keep a secret, you don't tell anyone".
Lots of people know Roy, which is hardly surprising given the years of service he has given to the community in a wide range of areas. From rugby to Rotary, Roy hasn't just sat on the sidelines, but rather has taken a leading role in a vast number of organisations throughout the years.
A keen rugby referee, Roy says he still remembers refereeing his first game. "It was 1942 or 43, I got involved with a club in Wellington where I was living at the time. There weren't many refs around as they were all fighting in the war, I was younger so couldn't.
They gave me a whistle and a bit of gear and I went and refereed a game. After half time, both coaches said to me I was doing all right so they would keep me on!"
He must have been doing more than "all right", as Roy went on to referee for many years, serving on the national executive of the New Zealand Referees Association for ten years, covering a range of roles including president, law writer and examiner.
Roy is also a life member of the Taranaki Rugby Football Union, (where he served as president) and says rugby is a sport he has always enjoyed. "It's a good game, keeps you fit and the players have a good attitude generally."
An accountant by trade, Roy certainly knows just how important finances can be. Just as important, he says, is education. "A few years ago my elder son and I were in San Francisco and we were talking about how there seemed to be lots of help for students in New Plymouth, but much less available for Stratford students." The seed was sown, and led to the formation of the Lithgow Family Foundation Trust in 2011. With three generations of the Lithgow family having attended Stratford High School, Roy says it is "really rewarding" to be able to offer financial help to students from the school to further their education. "By having it set up as a trust, other like minded people are able to also contribute or leave a bequest without the need for a separate trust to be set up."
At the age of 90, Roy is still incredibly busy, serving as treasurer for the Rotary Club Stratford Branch as well as still being involved with many of the organisations he has been a part of through the years. "I have retired from active roles on lots of the boards and committees, but that doesn't mean I have stopped being a member or stopped caring." From the Marire Rest Home Committee to the Taranaki Justices of the Peace Association, there are plenty of boards and committees in the district which have benefited from Roy's involvement through the years. From selling sausages outside Perrera's Paper Power on a Saturday morning to raise funds for Rotary, to helping run the farmers co-op - Allied Farmers, Roy is part of community life in Stratford.
He is the longest serving Justice of the Peace in Taranaki, having first taken taken the oath in 1967. He is a regular presence at the weekly service desk held by JPs at the Stratford library, "people need help and I am in a position to give them that help, be it signing a document or something else".
Asked what it is that drives him to be so involved in his community, Roy says he tries to live up to the Latin phrase uberrimae fidei "it means utmost good faith and a lecturer of mine used to quote it. If you always act in good faith, then you will always do the right thing".