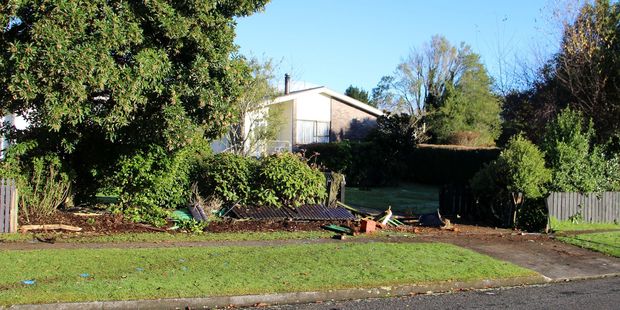 Chris Tubby says he was "blown away" by the quick response from Stratford police on Tuesday night after a car crashed through his fence on his Brecon Road property.
Chris says he at work when the incident happened and alerted to it by a phone call from his children just after 7pm. His son told him a vehicle had crashed through two properties on Brecon Road, cutting the power to numerous houses on the street.
"My son told me that they had lost power after the car lost control and took out the fence."
Eye witness accounts say the car was being driven by a young women with a male in the passenger seat. Police confirm the young couple fled the scene of the accident but were soon found by police at an address close by.
"I think they must have been having an argument when they crashed because they were yelling at each other before they drove off again," says Chris.
Sergeant Peter Lawn of the Stratford Police says the couple have been questioned about the accident and police are looking into whether it was the result of a domestic dispute. While no charges have been laid yet, Peter says the investigation is on-going and the police urge any witnesses with information to speak to the police.
Chris has praise for the Stratford Police who were quick to the scene and eager to help residents in the area.
"We were told it could be hours before someone could come out and fix the power but the police got someone here straight away, it was a great response."
Chris adds the residents of the street were also quick to offer help and support.
Peter says it is great to see members of the community looking out for one another in emergency situations and thanks those residents who helped the police with their investigation.
If you have information about this accident please contact the Stratford Police Station (06) 765 8860.
Alternatively information can be provided anonymously via Crimestoppers on 0800 555 111.