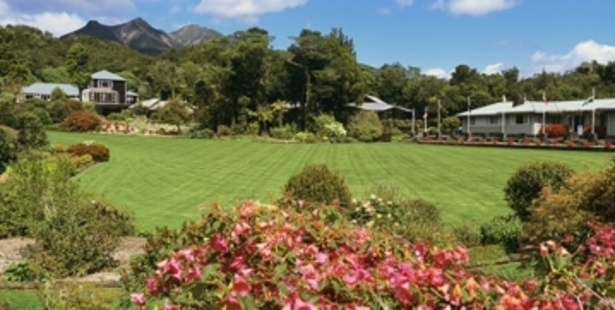 The Chelsea Garden Show is to gardeners what Formula One is to petrolheads, so when one of the judges lists Pukeiti in the world's top 10 gardens, it's a big deal.
Christopher Bailes has ranked Pukeiti at Number 2 in a column in respected London newspaper The Telegraph, giving high praise to the 334-hectare rainforest.
"Gosh, it's exciting," says Taranaki Regional Council Regional Gardens Manager Greg Rine. "Taranaki should be proud to be included with such prestigious gardens from around the world."
Mr Bailes says choosing just 10 gardens was difficult, but all of them richly deserve a visit.
"Nestling in lush temperate rain forest on the slopes of New Zealand's Mount Egmont, Pukeiti hosts a fabulous collection of rhododendrons, camellias, magnolias, and other woodland treasures," he says.
"A mild climate with three to four metres of rain a year provides ideal conditions for luxuriant growth of plants from the Himalayas, China and Japan.
"It has rightly been described as 'the ultimate rhododendron experience', but aside from the remarkable plant collection, the special magic of Pukeiti for me lies in its unique blend of exotic and native plants."
Taranaki Regional Council chief executive Basil Chamberlain says Pukeiti's presence on the list is a credit to those who have developed the garden and a reminder, both to the Council and Taranaki people, of its worth.
"We get this unsolicited reminder every now and then of the special taonga we have that is Pukeiti. It reinforces that there's a big world out there of people who are interested in these sorts of things.
"When you look at Taranaki's economy, I think you'd agree that one area we need to lift our performance in is our visitor numbers, and part of that is having our assets polished up and promoted. We're in the business of polishing Pukeiti at the moment."
Mr Rine says Pukeiti's inclusion validates the Council's work in growing its collection by sourcing new plants and increasingly vulnerable heritage plants.
"The cultivated plantings are totally focused on the genus rhododendron. Nowhere else in the world do you have such a unique combination of lush temperate rainforest setting off these beautiful flowering plants," he says.
"We look forward to hosting discerning garden visitors from around the world."
Other "Top 10" gardens are in Singapore, France, the United States, South Africa, Isles of Scilly, England and Northern Ireland.
The column also gives Taranaki a boost in the form of a link to a Singapore and New Zealand garden tour, hosted by Bailes, which includes visits to Pukeiti, Tupare and Pukekura Park in New Plymouth, Hollard Gardens in Kaponga and the Jury Garden at Tikorangi.
- Pukeiti, Tupare and Hollard Gardens are the three heritage properties owned and administered by the Taranaki Regional Council on behalf of the people of the region.
Read the original article here www.telegraph.co.uk/travel/tours/10-great-gardens-of-the-world-