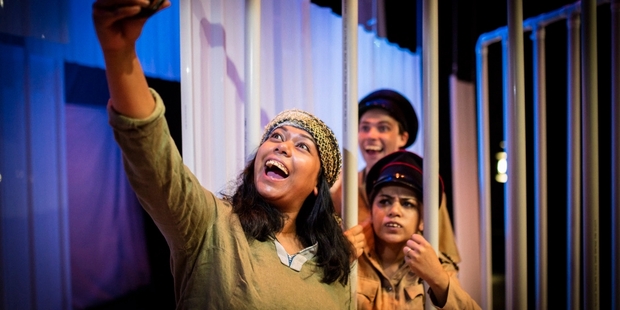 Theatre fans will be delighted that Indian Ink Theatre Company is returning to New Plymouth with their riotous and colourful production, The Elephant Thief.
The Elephant Thief is co-created by the successful partnership of Jacob Rajan and Justin Lewis, whose works such as Kiss the Fish, Guru of Chai and Krishnan's Dairy have been loved by audiences around the world.
Justin talked to the Stratford Press about their latest production.
"It covers universal themes such as what is actually meant by extinction, and what does extinction mean to us - what if the human race was to be facing extinction." Justin says.
While the play talks about the extinction of elephants, it also makes the audience consider their own mortality thus gaining a personal level of understanding not just an abstract one.
Elephants, says Justin, are amazing creatures and he is fascinated by the relationships they form with their mahouts in India.
"They bond for life, and that really is quite amazing, so being able to explore that in this play was great."
Three earlier plays by the Indian Ink Theatre Company were turned into a trilogy which is frequently taught in schools now, so what would Justin like to see students learn from studying this latest play?
"The theatre of the piece. Being mask based it requires the performer and the audience to take big leaps in their imagination.
"Then in terms of subject I would like them to think about man's relationship with nature, and all the ways in which we try to address problems such as global warming."
Justin, who spent many family holidays in Taranaki when he was growing up, says he is thrilled to be back in the region with this play.
"Taranaki has always been a great place; the Taranaki Arts Festival has built an engaged audience, who are educated and switched on. We come here because people come to see us!"
While Jacob Rajan isn't performing in this play, Justin says fans of the theatre company won't be disappointed by the "excellent" cast performing.
"Vanessa Kumar eats up the lead role, she is fantastic as is Nisha Nadhan. Jacob is still in the play really as he wrote it, and his spirit is definitely there."
WIN: Would you like to win a double pass to the opening night of The Elephant Thief? The Stratford Press has a double pass to give away to one lucky reader. To be in to win, simply email or call us with your name and contact number. If emailing, please put "Elephant Thief" in the subject line. Competition closes at noon, Tuesday June 7.
The Elephant Thief is at the TSB Showplace next week. Thursday, June 9 - Saturday, June 11. Tickets available from www.indianink.co.nz