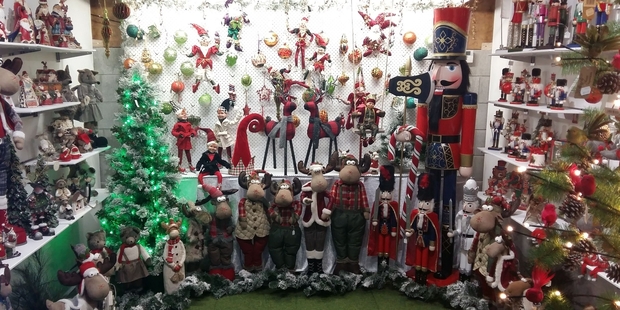 It's only 207 sleeps until Christmas!
While many reading this information might think that isn't far enough away, for Jenny Field, the day can't come soon enough! She is a self confessed Christmas addict and this weekend opened the doors to her new shop, The Christmas Village, fulfilling a long held dream of hers.
"I have always wanted to have a Christmas shop, I love Christmas and can't think of anything better than spending my days surrounded by everything Christmas related."
Jenny and her husband have been dairy farming in Opunake for 42 years but recently made the decision to move to New Plymouth and work on making Jenny's dream come true. Originally they planned to build a Christmas shop on their property, but when they heard the Santa's Choice Christmas Shop was for sale, they jumped at the chance to purchase the business from former owner, Alison Jarvis.
With a full rebrand to the new name, The Christmas Village, and plenty of refits and additions to the store layout, Jenny says she is looking forward to welcoming shoppers to the store.
"It's been hard work and I certainly couldn't have done it without all the family support I have had. All the building work was done by Alan Butler, and electrical work was done by Eddie Oliver. They have both been great and the end result is exactly what I wanted."
Jenny has divided the store into separate areas, each one themed by colour or type. So one section has all the nativity scenes together, another is focused on the colour red and so on. Outside the shop is a gorgeous sleigh which is parked in front of a Christmas themed mural.
"People can sit in it and take a photo for their Christmas cards or letters if they want," says Jenny, who has also installed a playpen in the main store.
Parents can let their children play with toys or watch a dvd in a safe area while they browse the store, I want the experience to be relaxing and stress free.
Jenny is also serving coffee and cake, making a trip to The Christmas Village a pleasant outing.
The Christmas Village. 63 Egmont Road. Open every Saturday, Sunday and Monday from 9.30-4.30pm from now and opening daily from 9am-5pm from October 1 until December 23. Late night shopping will also be available, keep an eye on the Stratford Press for details nearer the time.