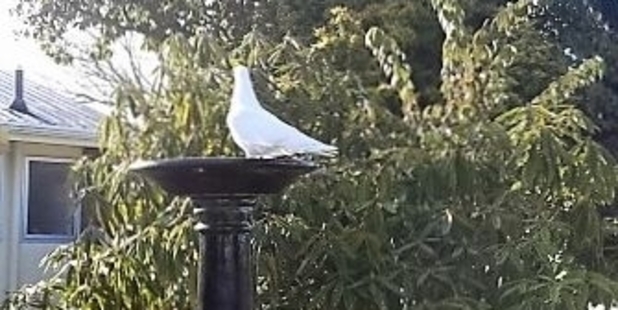 Owen Mander, a resident at Marire Rest Home in Stratford, is hoping a reader may be able to help him solve a mystery.
Owen has been enjoying watching a pair of doves visit the bird house at Marire until one of them mysteriously disappeared a month or two ago.
Owen says the other dove, which has been given the name George, has continued to visit daily.
"He calls in, has a quick feed then flies off again presumably to visit some lady dove nearby."
Owen would love to know what George gets up to when he isn't at Marire, "as he has wings and I don't - not yet anyway - I can't follow him and see where he goes".
Owen hopes someone reading this may be able to shed some light on George's activity.
"Surely someone has noticed a white dove with black spots around his neck making regular visits to their garden or pet dove."
Owen is also curious to know if this behaviour is normal for doves.
"Is the dove we think is missing actually someone's pet who had escaped for a bit and is now back home?"
Owen says he really enjoys watching George, along with a new pair of doves that have just been kindly donated to Marire.
"Whoever donated this new pair is very kind.Thank you whoever it was, as the doves are really appreciated."
Do you know anything about George's activities? Can you answer some of Owen's questions? Please write to us at the Stratford Press.