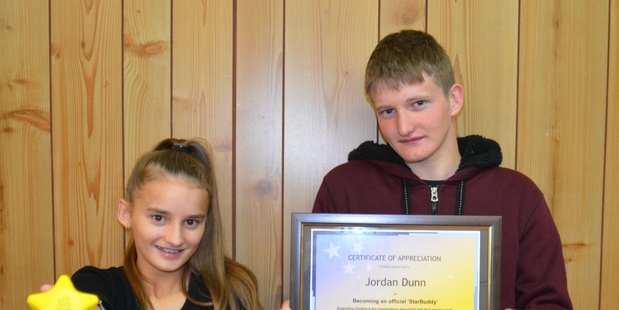 Even the smallest taste of ice cream puts Rebecca Dunn's life at risk, as does a sliver of cheese or a drop of milk. The 13-year-old Stratford teenager has a life threatening dairy allergy and has to carry two adrenaline pens with her at all times.
"I've grown up with it, so I am used to it."
The Sacred Heart Girls' College student is matter of fact about her condition, and doesn't let it get in the way of her enjoying life. Her father, Tom, says the family is able to cope so well "thanks to the terrific support from the medical team, groups and organisations and Rebecca and Jordan's schools".
Rebecca and her brother, Jordan (15), who has Aspergers Syndrome, were two of the five young people invited to a presentation by the StarBuddy Charitable Trust held in Stratford last week during which an impressive $750 was donated to St John Ambulance in the Taranaki region. The Taranaki branch of Parent 2 Parent (a support group for parents raising a child with a disability or health impairment) received $1125.
Tom says it was great to see the local groups receive the donations.
"Without groups like these, families would really struggle at times."
And he was grateful to StarBuddy Charitable Trust for raising the money.
The trust supports children throughout New Zealand dealing with severe illness, disability or special needs by raising money for what they call Star Pledges.
Joy Adams, a StarBuddy trustee, says for every $500 the trust raises, they are able to make a Star Pledge for one child. From this pledge, a portion of the money goes to the child's local branch of the St John Ambulance, another portion goes to a charity of group closely associated with the child, and the final part enables Joy and the team to gift the child a special treat or gift.
Rebecca's gift was a $50 Rebel Sport voucher and plans to use it for clothing. Jordan received a $50 PaperPlus Stratford voucher, and is looking forward to buying some new reading material.
"Reading is something I enjoy. When life gets stressful it is a good escape," says the Francis Douglas Memorial College student.
The siblings also received movie tickets, donated by the TET Kings Theatre in Stratford.
Rebecca and Jordan's pledges were raised through merchandise sales at a concert held in Stratford last year. Pledges for the other three children, from Hawera and New Plymouth, were donated by the 2ZH Country Music Club in Hawera and the Merrilands Country Music Club in New Plymouth. Vouchers were also donated by the Splash Centre in Wanganui and the Mega Bounce Trampoline Arena. To find out more about the work of the trust, visit their website: www.starbuddy.org.nz