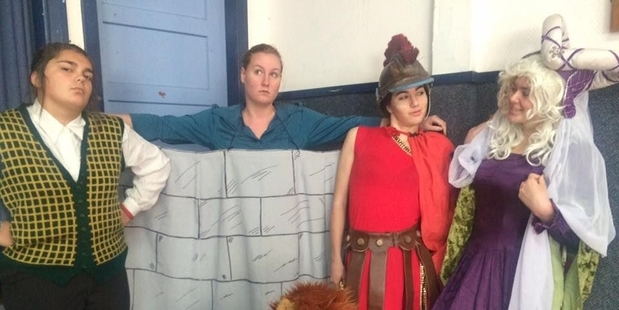 According to Lysander in A Midsummer Night's Dream, "the course of true love never did run smooth," but six students from St Mary's Diocesan School are hoping their path to Wellington will - and they're appealing for help from the community.
The talented young women won the regional competition in the University of Otago Sheilah Winn Shakespeare Festival held in Stratford in April this year. They are now set to travel to Wellington to represent Taranaki at the national finals of the competition next month.
"We are staying in the youth hostel, so not five star accommodation, but even so, we are looking at close to $5000 for accommodation, travel and meals etc." Head of Drama at the school Tracey Blake says. She and the girls are hard at work fundraising to help offset some of the costs.
A car wash is planned this weekend (keep an eye on the Stratford Press Facebook page for details) while on Friday night the students are holding An evening of Shakespeare at The Castle on Regan Street.
For $20 the students will be presenting a range of scenes from a variety of Shakespeare's plays, as well as some other entertainment. The ticket price also includes coffee and cake.
Tickets are limited, and are on sale now at the St Mary's Diocesan School office.
The winning Shakespearean scene, which was directed by Tracey, was performed by the year 12 and 13 Drama class, who selected the final scene from A Midsummer Night's Dream to perform.
"It was very hard, as it is a play about actors, so the girls had to forget everything they knew about acting and break the rules to portray inexperienced actors," says Tracey, who is very proud of their success.
They did a fantastic job and worked very hard to achieve the win.
One of the young actors, Molly Hutchins, 17, says she enjoyed the overall experience.
"But actually just working with such a great group, that was the best part. We felt like a family as we worked together so closely on the performance".
Eva Greensill, 16, says having the opportunity to go to Wellington is great.
"Not only to compete as a group, but we also have the opportunity to be noticed as an individual, and possibly selected for workshops or the chance to go the The Globe Theatre in the UK through the competition."
With the finals in Wellington just a couple of weeks away, the girls are appealing for support from the community for their fundraising.
"If you enjoy the arts, then please come along this Friday, and if you can support us in any other way then please contact us through the school," says Tracey.