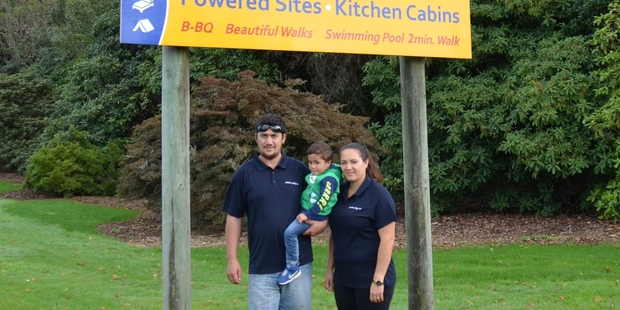 Holiday parks are all about family and that is something the new lessee of Stratford Holiday Park knows a lot about.
While Isobel Creswell's name is on the lease, the day-to-day running of the holiday park is in the capable hands of her daughter, Evander, and son-in-law John Atkins.
Evander says with her mum having been in the holiday park business for many years, "I grew up in holiday parks, they have always been part of my life," she is confident she knows what will work for the Stratford park. While she and John only moved in last week, they have lots of exciting plans and work has already started. "We have moved some of the units to a new location on the site, making space for six new motel units."
The motel units are being built and Evander expects them to be in place by the end of the month. Work will then begin on an indoor heated swimming pool complex.

This is something we feel the park really needs as it gives visitors a reason to spend time at the campsite, not just use it as somewhere to sleep at night.
Evander says they are also putting in a playground that will sit just outside the pool complex. "We also are putting an outdoor barbecue in the same area, so as Dad is grilling the steaks, the kids can hang out in the playground while Mum has a nice relaxing swim before dinner."
Evander and John say their 3-year-old son (Jayven) is loving his new home in Stratford, "he is already going to kindy in town and making friends," and they are looking forward to their baby girl being born in October. "Stratford is a perfect place to raise a family, we have moved here from Hastings and are really enjoying getting to know the area and people."
Mayor Neil Volzke describes it as an exciting development for Stratford, adding that it will be a real boost for the accommodation sector. "I'm sure visitors will really appreciate the new facilities."
Neil Cooper, parks and property assets manager at Stratford District Council, says Council is excited by the new developments. "Council has owned the holiday park for a long time, and it was leased as a going concern to the previous lessee. We recognised the facility was in need of an upgrade and made the decision to put it out for tender, looking for someone to purchase the park itself taking over the ownership and management of the facility and not just leasing the land from council. "When we heard Isobel was interested, we were pleased as she has an excellent reputation in the holiday park business. We are looking forward to seeing how she, Evander and John grow the facility in the future."