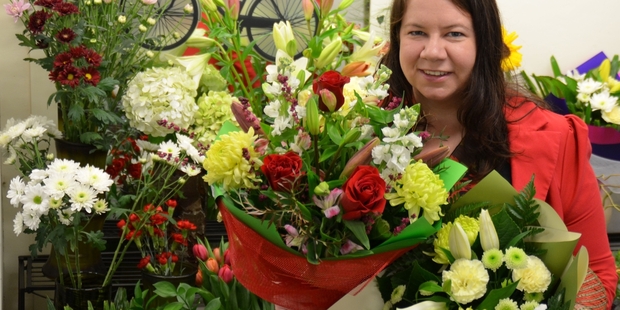 Walking into Findlay's Flower Studio on Broadway is like walking into a meadow, full of scents and colours of the finest of spring days, and that is exactly how new owner, Hollie Sarten, likes it.
I love fresh flowers. From perfectly perfumed roses to colourful anemones, there isn't a flower I don't like.
Hollie is an experienced florist, also owning Flower Studio in Inglewood, and says she is excited to be expanding her business with the new store in Stratford. "When I heard the shop was for sale, I knew it was the right place for me to be. Stratford is a brilliant place to have a business and I love getting to know everyone in the town."
Hollie is passionate about her craft, which is hardly surprising given her family. "Nana was a well known florist in the area, so I grew up watching her make amazing arrangements and bouquets and her home was always full of flowers." Hollie's Nana was the late Winsome Sarten, the renowned Taranaki florist who owned Sentiments in New Plymouth as well as working as a florist in Opunake.
"Now Dad farms her land so I still go there to collect greenery and flowers for my arrangements."
Having trained at the Manukau Institute of Technology's School of Floristry as well as learning first hand from Winsome, Hollie has a talent that has been recognised at an international level. Just a couple of years ago she was awarded a Silver Distinction at the prestigious Ellerslie Flower Show after being selected from hundreds of applicants to even be allowed to compete. "It was an amazing experience," she says of the competition, "and I gained more than just an award, as I came away with so many ideas having seen all the exhibits. That's what I love about floristry, the creativity it offers."
With Hollie running two busy shops, she is thrilled to have a second experienced florist in the Stratford shop working with her. Wendy Jane has worked as a florist in Stratford before, and says she loves being back in the shop. "I had a customer come in and give me a hug the other day, they were so pleased to see me," she says.
Working with customers, both old and new, is a true pleasure, says Hollie. "When people ask you to create something special, be it a birthday bouquet or an arrangement for a funeral, it is always special."
Flowers can say so much and it is up to the florist to make those words beautiful.
WIN: Hollie is offering one lucky reader the chance to win a bouquet of flowers from Findlay's Flower Studio. To enter the competition, simply call or email us with your name and phone number, and answer one simple question: What was Hollie's Nana's name? Competition closes at noon on Friday, May 27 and a winner will be drawn that afternoon. Call us on 06 765 5471 or email editor@stratfordpress.co.nz. The bouquet will be hand delivered so the recipient needs to live in the Stratford District.