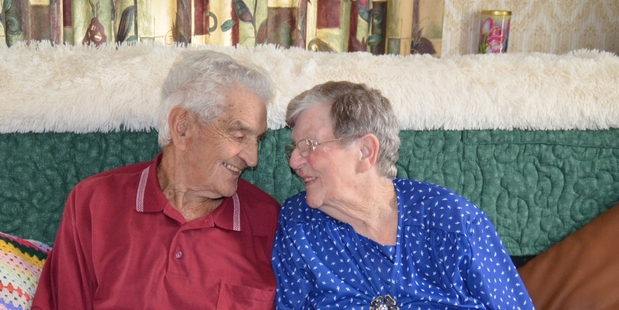 When Gavin first met Margarette he didn't add her on Facebook, nor had he 'swiped right' after seeing her profile on Tinder. Those options weren't available 60 years ago.
"If you liked a girl you asked her to dance," says Gavin Belton who, with his wife Margarette, is celebrating 60 years of wedded bliss this month.
The dance where Gavin met his future bride was held in Wanganui, where Margarette lived. Gavin had driven down from Ngutuwera (near Waverley), "because they had better dances in Wanganui than in Waverley" when he saw her across a crowded dance floor.
I went over and asked her to dance, we danced a few times including the last dance of the night.
Margarette had cycled to the dance, and wanting to escort her home Gavin put her bike on the back of his car, a Ford 10 Prefect, and gave her a lift.
Asked why he first asked her to dance, Gavin's answer is quick and heartfelt. "She was the prettiest girl in the room, and she still is."
Their courtship continued, with Gavin making the trip to Wanganui most weekends to take Margarette dancing. Margarette says Gavin and her mother got on so well that, "if I wasn't ready when he arrived the two of them would start playing cards, then I would join in and we would forget the time until it was too late to go out anyway".
After a few months, Gavin proposed.
"I remember it perfectly," says Margarette. "I was on the stairs in our house, sitting down, when my mother appeared with Gavin and he asked her for my hand in marriage." Her answer? "You darling, yes I will!"
They married in Wanganui on May 19, 1956. Margarette wore a dress she had made herself and a veil her mother bought her for her 21st birthday a few months earlier.
"Then we moved into Gavin's family homestead on his parent's farm."
Margarette says while she was a town girl, "I soon learned to milk the cows, the only problem was all the good rich farm food, it wasn't good for slimming!"
Sixty years on the couple, who have five children, eight grandchildren and two great-grandchildren, will be celebrating their anniversary with a family meal at the Midhirst Tavern.
Gavin says the secret to a successful marriage is "take one day at a time," while Margarette says it is all about give and take. Most importantly she adds, "if I could marry again, I'd marry the same man".