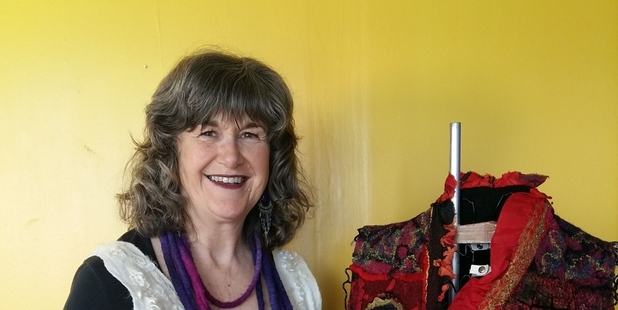 Oscar Wilde once famously said "one should either be a work of art, or wear a work of art", and it is a quote Bernice Mitchell has taken to heart.
She has just come home from the Creative Fibre National Fashion awards for 2016, where she won an award for a garment she designed using the Nuno felting technique.
The garment, entitled 'Love Me In Red Too' received the award for reflecting the versatility, innovation and beauty of felting. Bernice says it is the versatility of felting that attracted her to the genre eight years ago. "My mother was a spinner and dragged me into it at first," she says, but after attending a felting exhibition at Stratford's Percy Thomson Gallery she became fascinated with the art form. "It is great for fashion art, felting on fibre gives a lot of versatility and helps create more drapeable garments."
Bernice also loves the way each garment is unique, and the finished result is lightweight and completely wearable.
She says she is inspired by the individual colours, textures and fibres of the fabric she is working with at the time, and creates as she goes along rather than planning it out in advance. "I also believe God adds to my creations, giving it a tweak and inspiring me."
Bernice sells her finished pieces, "I can't keep them all, I wouldn't have room in the house or time to wear them," with this latest award winning piece selling for $600.