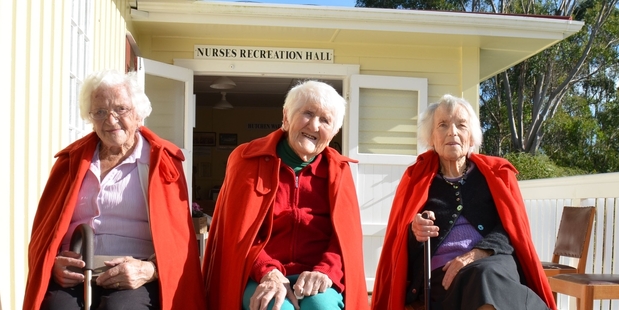 Nursing has changed a lot through the years, says ex nurse Genevieve Hopkins. "Back then, it was bedside everything, bed pans, sponge baths. Now patients are up faster and spend less time in hospital."
Genevieve (96), along with fellow ex nurses Jessie Harre (96) and Jean Forbes (97) spent an afternoon touring the Stratford Hospital Museum at the Taranaki Pioneer Village last Thursday. They were there at the invitation of members of the Stratford Hospital Museum group, and president Rose Secker says it was lovely to hear their memories of hospital life as it was many years ago.
The outing was organised to coincide with International Nurses Day, celebrated on Florence Nightingale's birthday each year. "Once a nurse, always a nurse," says Rose, who presented the three ladies with a flower each to thank them for their years of "wonderful service as a nurse in our community".
The ladies modelled the red capes which were part of the nursing uniform for many years and enjoyed looking around the museum.
Rose says the group welcomes new members and invites anyone who has been involved with hospital life, "as a doctor, a nurse, a support worker or a patient, we welcome all" to contact her. The group is also grateful for donations of any relevant memorabilia to display for future generations.
Contact Rose Secker; 06 765 8137