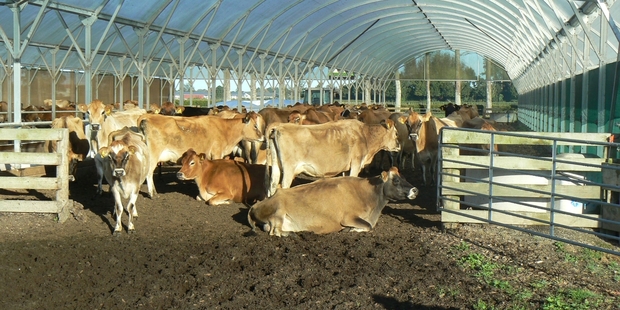 Good warm sunny weather with plenty of rain has resulted in very good pasture growth over the past four weeks on the Stratford Demonstration farm. This has resulted in very high pasture covers and the farm set up well for feed going into the winter.
Over the mid-April to mid-May period it has remained warm and sunny with soil temperatures still about 13 to 14C, which is 3 to 4C above average, plus there has been over 80 mm of rain recently. Pasture growth rates have been well above average at over 40 kg DM/ha/day and the pasture cover remains very high at 2800 kg DM/ha on winter formula levels with some pastures getting too long and difficult to graze out well. The good conditions have allowed milking a little longer than expected with the herd being dried off at the start of this week. Overall supplement levels are moderate at 283 kg DM/cow wintered, which is enough for the wintering and calving period. Cow condition is also moderate and needs improving, plus some of the facial eczema affected cows are still light and need extra feeding, which has been allowed for in the feed budget.
Milk production for the season ended up at 60,300 kg milksolids, which equals 363 kg/cow milked and 1182 kg/ha.
This is down 14 per cent on the previous season with roughly 5 per cent due to less brought-in feed and 9 per cent due to seasonal factors. Purchased feed used was 2400 kg DM/ha overall or about 14 per cent of total feed input. For the coming winter the farm will be run as a single herd with no trial operating at this stage, but a mid-season trial as per this past season is still possible. The management plan for the next four weeks is to winter the cows on 25 m/cow/day of pasture for 120 days, round with grass silage as needed for the early winter. Then feed maize silage in the covered over night stand-off feed pad and a longer round later in the winter when conditions are wetter. Two herds will be run during the winter based on age and condition, plus some of the lighter cows still recovering from facial eczema may be open grazed on long grass or fed PKE to improve their condition.
Major changes are in process with the Stratford Demonstration farm, Waimate West Demonstration farm and the Taranaki Agricultural Research trust. The plan is to merge resources into one research organisation for Taranaki. Each farm will still operate doing farmlet and/or other trials but under the umbrella of one research organisation that will be leasing the land from the current farm owners. The aim of this is mainly to help attract more science funding and input into the region. It will also help lower operating cost from economies of scale, which is a problem for the current smaller farms especially in the present economic situation. However, as usual, these things take time to put into practice so it remains business as usual on the farms.