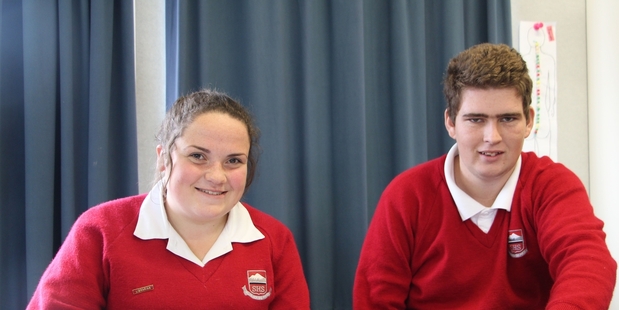 Ten second showers and getting up at 6.30am may not be the stuff many teenagers dream of, but for two Stratford High School students these things were just part of the "amazing experience" they enjoyed on a recent leadership course.
Zac Armistead (17) and Madi Davy (16) have both come back from week-long trips on the Spirit of Adventure, a three-mast sailing ship.
Madi says a highlight of the trip for her was "being among other people like me, as all the students on the ship were also deaf". Madi, who has a cochlear implant, says some of the crew and staff were also deaf, "so we were able to communicate easily".
Madi says the five day trip was held to celebrate the 10th anniversary of New Zealand Sign Language being an official language. "So I did know the others on the trip would be deaf, but I didn't know some of them would be people I already knew." She was surprised, she says, at Auckland airport when she saw friends she knew from the deaf community.
The people I didn't know, also became friends soon because we did everything together and shared experiences over the trip.
For Zac, who went on a similar trip a week before Madi, it was also the opportunity to make new friends that made the experience so memorable. "I don't have Facebook but I can call them and stay in touch. It is good because we spent that time together and have become good friends." Zac's trip, for students with a physical disability, challenged them throughout the five days. "We had to swim in the sea and do things like stay awake at night for the night watch duty."
I like trying new challenges and getting to try new things. There was nothing on the trip I didn't like.
Zac says while he was nervous before he joined the ship, he was sure it was going to be fun. His mother had been on a similar trip some years ago, "and she had told me about it, it sounded like something good to do".
Both Zac and Madi say they are confident others would enjoy the experience too. "I would tell anyone to take the opportunity to go on the trip," says Madi, who says she would like to go on another voyage. "Or even better, become one of the crew members."