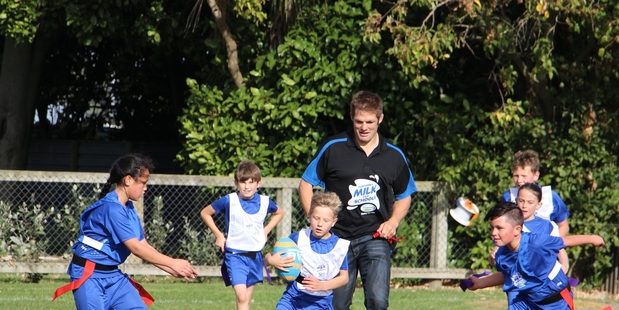 The Fonterra Milk for Schools programme brought former All Black Richie McCaw to Tawhiti School earlier this month.
Thanks to a total of 4256 votes, the school's short film won Fonterra Milk for Schools movie competition, and the prize was to have McCaw visit the school for a day.
Earlier in May the excited pupils got to spend a day with the sporting legend, taking photos with him and asking him lots of questions before they headed out to the sports field where he refereed a game of rippa rugby.
While the sidelines were packed with parents and members of the school community watching the game, there was a noted lack of complaints about the referee or any of his decisions.
"Not going to yell at this ref I reckon," said one parent. "He seems to know what he is doing."
Richie was equally impressed with the school, calling it "a cool wee school". The winning video, planned and scripted by pupils with the help of ICT tutor Milton Whareaitu and teacher Tracy Taylor was "pretty sharp". Richie has been a Fonterra ambassador for several years.
It looks like it's been done professionally. The Fonterra Milk for Schools programme is a great thing. To come to school and get given milk every day, that's great.