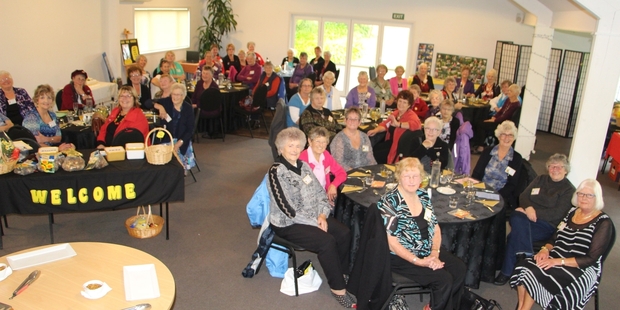 Members of the Wharehuia / Midhirst Garden Circle met to celebrate 50 years since the group was formed.
Fifty years ago, a group of women met at the residence of Mrs Hoskings where, according to the minutes taken that day, they decided to formally start the Wharehuia / Midhirst Garden Circle.
The date was February 21st, 1966, when the group gathered at 1.30pm and set the groundwork for their group. Subscriptions were set at one shilling, and cuttings were sold at a penny each, with a root selling for threepence.
50 years on and 50 members of the group met to celebrate the anniversary with a luncheon at the Shakee Pear Cafe. While some things have changed over the years, including the cost of subscription or a cutting, other things remain the same, such as a love of gardening.
Current president of the group, Wilma Semple, told those gathered they all shared a love of gardening.
"Be it a small town garden with immaculate lawns, not a weed in sight ... or a large country garden where you are always chasing your tail trying to catch up on the weeds and aphids."
The cake was cut by one of the oldest current members, Ruth Kellar, who wished them many more happy years of gardening.
"There is always something to do in a garden".
Wilma says she loves being a member, as she is able to share her passion for gardening with other like-minded people.
"Gardening is my life. A day not in the garden is a day wasted."
If you would like to join the group, it meets on the first Thursday of every month, at 12.45pm at the War Memorial car park, Miranda Street.