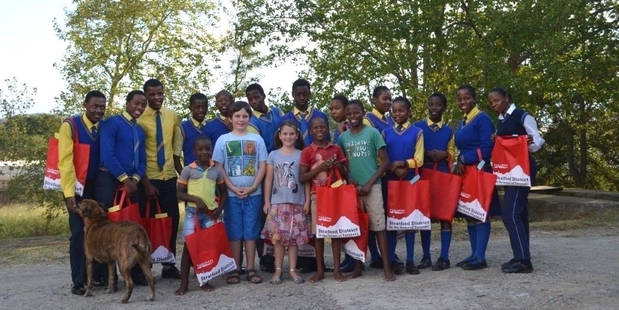 From Stratford, with love.
That was the message hand-delivered, along with a card and 20,000 rand ($2000 NZD) by Achim and Tatjana Hanne on their recent visit to Kwethu Children's Village in South Africa.
As previously reported in the Stratford Press, the Stratford youngsters wanted to help orphans and vulnerable children while they were on holiday with their family in South Africa. Thanks to the generous support of Stratford businesses, as well as the many people who bought raffle tickets from them, the children were able to substantially beat their original fundraising target of $500.
"We also had a joint birthday party at the TSB Pool in Stratford," says Achim (11), "and asked everyone who came to give a donation instead of a present."
"Our school had a mufti day as well," sister, Tatjana (8) says, "and so did Stratford District Council."
Everyone helped us raise the money for the children at Kwethu.
Taking the money to the children themselves was important.
"When we were selling raffle tickets, one lady asked me how I knew the money we raised would go to the children themselves and not get lost somehow," says Achim. "It is good to be able to see the people you are helping and to know their names."
The children, along with their parents and younger brother Thiemo (4), spent a day visiting the children at Kwethu.
"We made lots of friends," says Achim. "I played football with some of the boys and they showed us around the place."
Tatjana says she enjoyed talking to the children there.
"They were all really nice. I was talking with one girl called Sipho who is 13. It was nice meeting her and knowing we were helping her and her friends."
As well as money, the children also gave each of the children a gift of some essential items, presented in bags kindly donated by Stratford District Council.
"I like the red colour on the bag." Zanele (17) says the bag will be useful for her school stuff.
The bag will help me carry all the books I need to keep studying and then graduate.
Barbara Borgman, who along with her husband JD is on the board of directors for the village, says they were thrilled with the donation from New Zealand.
"It was lovely to meet Achim and Tatjana, and we will be putting the funds to good use. Thank you to everyone in Stratford and elsewhere who donated and helped the children raise this money."
Barbara says it is always a challenge finding enough money to meet their needs.
"Some of the children have high health care needs due to HIV, plus they are growing teens who seem to have an endless appetite. Receiving this amount from such young children is really humbling."
To find out more, visit their website: www.kwethu.com