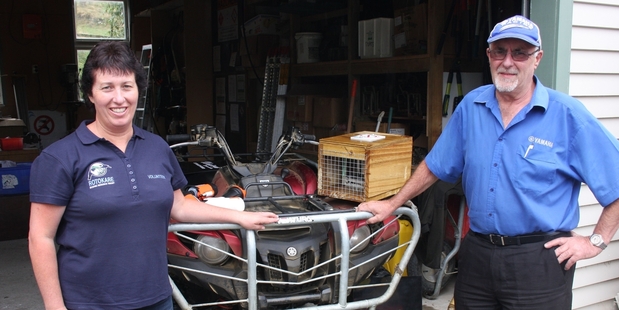 Community-led conservation received a big boost recently with a crucial helping hand from local business.
Gerald Rooyakkers, managing director of Union Yamaha in Stratford says he was proud to play a part in helping increase pest control on farmland surrounding the Rotokare Scenic Reserve by providing a quad bike.
"Even when times are tougher than usual, supporting local charitable work is an important part of our focus. We do our best to support local farmers, and hearing so many of them talking about the Rotokare Scenic Reserve Trust, it seemed obvious that helping there would also help our rural community."
One of the trust's projects is developing the Rotokare Halo Project, to protect wildlife from within the sanctuary when it spills over into neighbouring land. The Halo Project is about killing predators to allow wildlife to survive on private land.
"Farmers are in tune with the environment like few others," says new Rotokare trustee Deborah Clough. "We hear reports of more and more bird sightings from the surrounding farmers, and know that together this community can make a real difference to the future of biodiversity."
The Halo Project traps predators on farms, initially covering more than 2000 hectares with traps. Nearly 1000 hectares has been covered over seven different farms, with more added throughout the year.
"When we heard that the Trust needed a quad bike to help get around, we were thrilled to do our bit. We're all in this together, and local business can play a key part in helping the rural community achieve its goals, especially when it comes to protecting nature for future generations," says Gerald.
Deborah says the team is delighted with the donation.
"We're thrilled and humbled by this sponsorship. It's been a huge boost."