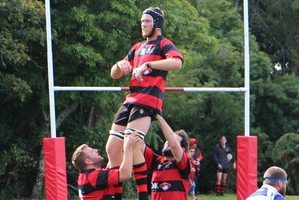 The Matthew & Co Senior Bs made it back-to-back wins against a tough Tukapa side at Stratford on Saturday.
After a shaky start to the season, the Stratford Bs have improved a lot and it wasn't long before Matt Arnold scored our first of four tries.
With the confidence in each other building, the team was starting to string a few phases together and asking a lot of questions of the Tukapa defence. A well-constructed move in the midfield, saw Robert Kauika combine with Jai Grant, to have Robert score next to the posts. Half time score 12-0 Stratford.
The talk at the break was to keep Tukapa pinned down in their half and Willy Arnold did just that. Willy kept the ball in front of the Stratty forwards to maintain the pressure we'd placed on the Tukapa team, from the first half.
David Avery was on the end of a Robin Kivell chip and chase to score his first try for the season and Willy Arnold scored not long after that, by busting through the Tukapa defence to push the score to 27-12.
Steve Barr picked up player of the day with a big defensive game and the bench players, once again, showed that they can add punch as they were injected into the game.
Tukapa scored in the dying minutes to take the final score to 27-17 in favour of Stratford.