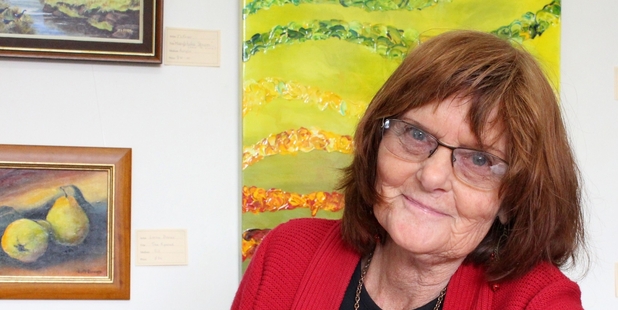 Most days local potter Margaret Foley does what she loves, creating with clay.
"I get withdrawal symptoms if I'm not touching clay at some stage during the day," she admits.
Margaret was introduced to potting "40-something years ago". It was during the 70s, the halcyon days of the New Zealand pottery movement, when artists could make a living from their work. Domestic-ware was in demand and used every day. It was a potter's bread and butter.
This changed when the domestic market was flooded with cheap alternatives, when the government relaxed import restrictions in the early 1980s.
Margaret was introduced to pottery at night classes.
"All the other ladies stopped, and I kept going."
Margaret, with help from family and friends, erected a large wood-fired salt kiln on her, and husband Terry's, Midhirst property.
"Janet Smith, Bev Rea and I built it with old bricks from the Eltham Bakehouse and Douglas Brickworks," recalls Margaret.
The edifice was dubbed the Taj Mahal.
"It would take three days with no sleep to fire the pots. We would think this is such a stupid idea and when we saw the results we would think it was marvellous. And when were we going to do the next one?"
It was a social event with other artists turning up with food and drink and taking turns to stoke.
"Terry had to cut the wood to size, and stack it to dry. We probably had three firings a year."
A small electric kiln has now been brought into service. Margaret fires at a higher temperature than many potters as this gives strength to her pieces, many of which are made for gardens. Margaret still participates in group pit firing with the New Plymouth Potters group.
"Raku is a fun thing to do. You don't know what you're going to get. It's always a surprise when it comes out the other end. Most of my work is hand-shaped now, but I have made a couple of casseroles on the wheel for my granddaughters."
Margaret's work is quirky, often unique and unusual. Trademarks are her indentations, patterns and symbols, pressed into the clay.
"I like to think I can come up with something different, I'm always on the lookout for new ideas, trying new things. I've got so many ideas and I'm running out of time."
Pottery by Margaret has found its way into far-away lands such as Mongolia. Highlights have been selection to the Fletcher exhibition in the Auckland Museum, four times. Her work has been shown in exhibitions throughout New Zealand.
Margaret is always keen to assist newcomers and has tutored many classes.
"I can't help myself. I love to help out."
Margaret is a long-time member of the Stratford Art Society and will be exhibiting in the upcoming exhibition which opens at Percy Thomson Gallery on Friday, April 29 at 7pm.