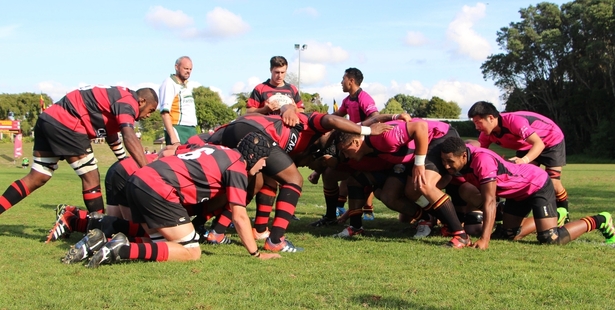 The CMK Stratford Premiers continue to impress in 2016 with a dominant win over Spotswood United 32-15 at Yarrow Stadium.
Stratford started the game strong and camped down in Spotswood's territory for long periods but couldn't convert this into points and instead found themselves down 10-0 with Spotswood scoring two tries against the run of play. Stratford continued to put more pressure on Spotswood with a kick and chase that was tided up by Rhys Pratt who scored.
The conversion missed but soon after Spotswood were down to 14 men when their player was shown a yellow card for a foot trip. Stratford went to the break trailing 10-5.
Right from the kick off Stratford took full advantage of a Spotswood mistake after they kicked it dead. Stratford managed to continue mounting pressure on Spotswood and Rupeni Vakasilimi scored beside the posts. minutes later, number 8 Kolaia Nalewabau scored a runaway try and Stratford led 19-10. A penalty each to Leoni Nawai and Jordan Masters stretched Stratford's lead out to 25-10. Stratford then stepped up the pressure again and scored a great team try on the back of a Zack Taitoko break.
Dayle Bailey was the beneficiary and Masters converted to give Stratford a comfortable 32-10 lead.
Spotswood had the final say with a breakaway try but it was too little, too late with Stratford comfortable winners 32-15 and staying in third position in the CMK Premiership on 11 points.
There were many stand out players for Stratford, with Jack Jordan one of these alongside Donald Maka, Kolaia Nalewabau and Jordan Masters.
The impact off the bench was also impressive with Glen Law, Jai Grant and Shane Denham all impressing making their debut for the premier side. Zack Taitoko, Dayle Bailey and Trent Rowlands also did sterling jobs when they came on.