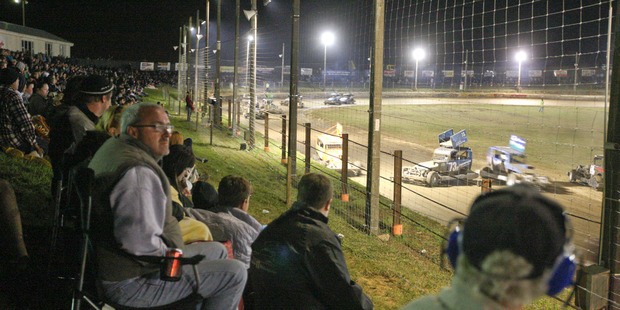 Saturday night was the last race meeting of the season at Stratford Speedway, and it was meeting not to miss.
Streetstocks and saloons were the only classes to run for titles, saloons for the Heritage Shield, one of the most desired titles and streetstocks for their Best Pairs title.
The saloon class was action-packed with a very fast track. The drivers completed their fastest race this season in the first heat of the Heritage Shield race with no yellow flag interruptions. All drivers were pushing hard, including the two visiting drivers Joshua Smith (27b) and David Speirs (63w). Craig Korff (8s) won the first heat of the night for the saloons after racing door to door with his son Thomas (16s). The second saloon race had more hard and fast racing by the Korffs and with Richard Dreaver (7s) with the cars racing three wide into turn two. Thomas managed to pass and went on to finish the race in second place behind Joe Ingram (27s). Jarrod MacBeth (908s) took third.
Craig Korff won the Heritage Shield, while defending winner Joe Ingram finished in second place followed by Stratford's only female driver Paula Hinton (25s) finishing in third place after a night of very good hard-charged racing.
The Youth Ministocks had a lot of carnage in their second race for the night which saw Ryan Houghton (112) spin accidently causing a pile up, which saw Madison Crawford (4s) being caught up in her first roll over for her racing career, it also saw at least eight cars not finishing the race.
The Streetstock class had great racing with 10 cars racing for their Best Pairs title. John Young (6s) and Steve Reed (119s) took out the title after three heats of fast racing and big hits.
The Superstock class also saw some very hard charging racing as each driver battled to gain as many last minute season points as possible, with Phil Ogle (282s), Wayne Moss (25s) and Logan Sharpe (33s) all taking chequered flags for the night.
In the Adult Ministock class Fergus Hughes (23s) took the win for the first race followed by Carol Podjursky (69s) who showed some great skill in taking the wins for the second and third races for the night.
Congratulations to all competitors who have raced at Stratford Speedway this season and thanks to all of the crews and sponsors who help make it happen. It has been a mammoth season battling the weather and hosting one of the biggest national titles in speedway.Thanks to the Club's volunteers for hard work behind the scenes and during the off season to ensure next season is even better.
Thanks to the spectators for watching the sport we all love.