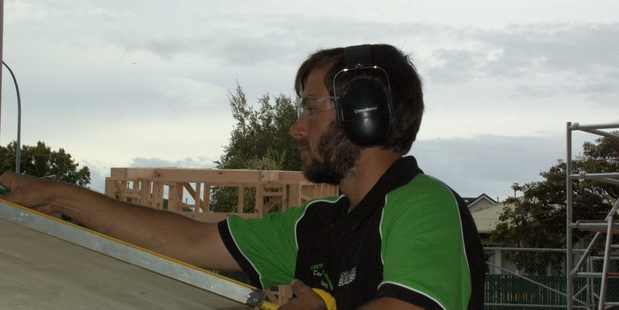 Eight hours - a standard work day, a decent night's sleep and for one apprentice it was the time taken to build a wooden playhouse as part of the ITAB Apprentice of the Year competition.
Tom Ferguson was one of only two competitors to complete the project at the regional ITAB Apprentice of the Year competition earlier this month in Palmerston North.
"It was a huge task. Some of the competitors only got half way through. I finished with only five minutes to spare."
Tom was placed second in the regional competition and will be heading to Wellington next month to compete in the national competition as part of the Certified Builders national conference.
This was Tom's first time entering in the competition after encouragement from his employer Adan of Adan Larsen Builders and tutor Dave Freebairn.
"Generally third and fourth year apprentices enter in the event. I entered thinking I would just have a go and see what it was like so I could enter competitively next year, but turns out I did pretty well."
Two weeks before the event competitors are sent plans for the project they will have to complete so they can study them.
"At the event we had to make the playhouse from scratch, including measuring out and cutting all the materials."
As well as testing skills and knowledge Tom says the challenge really put the competitors' time management skills to the test.
"Finishing the task was all about time management, something that is important on the job site as a builder."
While Tom is unsure what the task for the national competition is going to be, he says he is looking forward to the challenge.
Tom has been with Adan Larsen Builders for two and half years after doing work experience with the building firm through Gateway while he was still at school.
"We've seen Tom grow tremendously over the last couple of years and his success at this competition is a real credit to him," Adan says. "He is a keen hard-working individual and it's great to see him push himself to the next level."
Adan says that he and his wife Kelly are grateful to their great team who have all contributed to Tom's learning of the trade.
Adan will be attending the Certified Builders National conference in Wellington.
"It will be really satisfying to see Tom competing with his peers from different regions around New Zealand and we wish him all the best," he said.