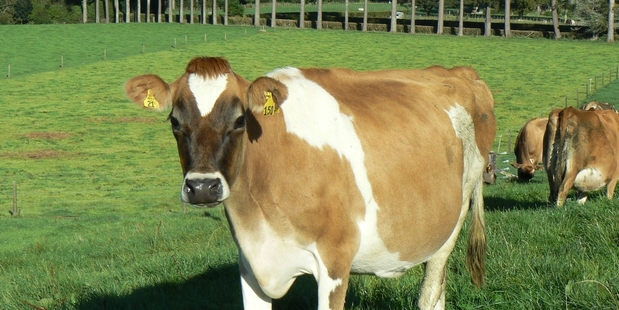 The past four weeks have been fairly eventful on the Stratford Demonstration farm.
Pasture growth has been very good so there is a high level of grass on the farm, however with pasture quality and facial eczema problems the cow numbers milking and milk production is quite low so a very disappointing end to the season.
After the dry summer the mid March to mid April rainfall has been at good levels while generally it has remained warm and sunny.
February grass level temperatures average 12.7 C which was well over the average of 8.6 C and over the 12 C level required for facial eczema spore growth hence the major problems in the district.
Pasture growth rates were well above average at over 50 kg DM/ha/day and the pasture cover remains high at 2500 kg DM/ha on winter formula levels but the good levels of feed have not been able to be taken advantage of. On the farm there has only been a few cows with mild visual clinical eczema symptoms but a lot of cows have just given up milking or are a bit light in condition so 15 per cent of the herd has been dried off.
The calves however have been hit hard with 25 per cent with severe clinical symptoms. On top of this there was a high 16 per cent empty rate in the herd so with these culled and cows dried off only two thirds of peak cow numbers are now being milked.
The two-herd farmlet trial finished at the start of April. This trial had one herd on all grass feeding with no supplement and the other getting PKE supplement fed for higher feed levels. Over the trial period from September 20 to April the supplement herd were fed an extra 1488 kg DM/ha and produced an extra 135 kg milksolids/ha which is a good response of 91 grams milksolids per kg DM.
The milkers and dries are currently on a 40 day grazing round being well fed on all grass feeding but on once/day milking. Milk production is quite low at around 0.8 kg ms/cow/day and 1.8 kg ms/ha and is 20% behind last March.
The management plan for the next four weeks to mid May is to milk to the end of April then, as feed budget allows, milk the better condition and producing cows on while feeding the rest as needed to reach the target score 5 average by June 1.
Nitrogen was applied with the autumn fertiliser and a light later dressing is being applied in April. General pasture hay and silage levels on hand are just enough for minimal wintering needs but carried over maize silage is available for the late autumn as needed.