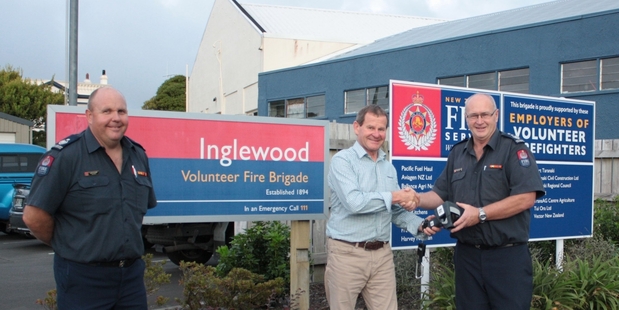 The Inglewood Volunteer Fire Brigade have a new thermal imaging camera (TIC) this month, thanks to funding from the Taranaki Electricity Trust (TET).
The TET approved a grant of $23,000 for the camera which will be used in fires and other emergency work.
Andrew Cotter, senior firefighter at Inglewood Volunteer Fire Brigade, says a thermal imaging camera uses infrared radiation to form a picture on the screen, which allows firefighters to see through dense smoke inside a burning building. It also allows them to search for a temperature difference in the night.
Andrew says the camera also allows the firefighting crew to search for hot spots in a fire giving them the ability to target their firefighting. The cold tracking function on the camera can also identify the source of a gas leak.
TET's Mike Davey presented the TIC to the brigade earlier this month and the brigade demonstrated to him how the camera can also be used in a search and rescue.
"Mike was very impressed with how easy it was to pick out a hidden body when searching in the pitch black," says Andrew.
"Without this technology it would take a large team an extended amount of time to locate that same person hiding or lost in the bushes".
Deputy chief fire officer Lance Allerby says the TIC will be a great asset for the Inglewood Brigade and the district, when Inglewood is called to assist other brigades.