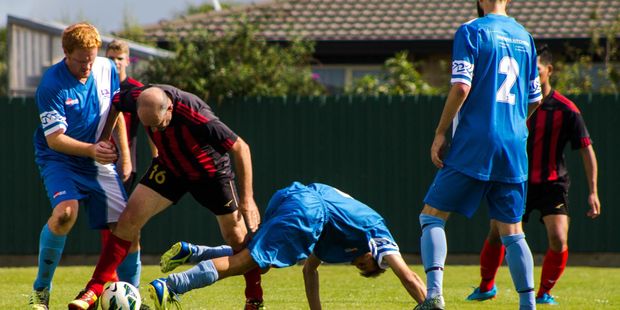 Three games into the league and McDonald Stratford are still finding their feet and coming together as a solid unit.
The first half of their game against Face Pace Solutions Woodleigh was marred by niggles and unruliness between both teams and this had an effect on the way Stratford performed.
Rather than playing the game the way they wanted it they were cornered into playing Woodleigh's game and it was one Stratford struggled against.
That said Stratford started the first 15 minutes well and while being put under pressure held out and in doing so were able to produce the first goal of the game. It was a marvellous text book affair with a goal kick, taken by Juming Ma, finding the feet of striker Brad Townsend just outside the opposition 18 yard box. Townsend turned it around his mark and took it straight into the goal box where he proceeded to easily beat the keeper.
Woodleigh responded very quickly with a breakaway run from half way that beat the defence, and keeper, levelling the score.
Then the game deteriorated with niggly tackles, off the ball pushing, and heavy charges. Through this Woodleigh scored twice more and Stratford seemed to break apart in the middle. Captain Ian Thornton worked hard to maintain discipline and Stu Hawkless was brought in from the side line to regain control of Stratford's "shape"
Half time, with Woodleigh 3:1 ahead, saw some inspirational words put forward with an emphasis on Liverpool's Jurgen Klopps encouragement to his players in their stunning comeback against Dortmund. He told them " to create a moment they could tell their grandchildren about". Central Football Mens Div 2 isn't quite the same league but the heart in every player is the same.
The half time break also saw the referee for the game having words with both sides and letting them know what he expected from each team. He should be recognized, and applauded, as he was one of the many CBR's, Club based referee's, who are not officials but who take on the responsibility within their own club when an official referee is unavailable and that happens too often in Div 2. It is sometimes a thankless task but without them football would be at a loss.
The second half was a different match after both teams had taken to heart everything that was said and the game continued under much better discipline.
Stratford again were able to score within ten minutes of kick off after some brilliant one touch football put the ball at Ny Chan's feet. This was the first time he had had a good run out and it was splendid to observe as he took the ball in from the left wing cutting inside the defender and shooting for goal scoring in the top right.
The rest of the game saw Stratford put in some impressive attacking plays but were unable to finish and the fulltime score ended at 3:2 to Woodleigh. But Stratford could take some heart that they had pulled themselves together and won the second half.
McDonald Stratford come up against Rangers Social at Merrilands next Saturday 12:45pm.